It seems Harry Styles can't tweet a member of the opposite sex without his fans speculating that he's got a new love interest.

The One Direction star has sparked rumours he could be hooking up with young British tennis talent Laura Robson after he sent her a tweet.

Ahead of Laura's match against Mariana Duque-Marino at Wimbledon today, Harry, 19, posted: "Good luck for today maaaaate! @laurarobson5."

Directioners were immediately on Harry and 19-year-old Laura's case.

One wrote: "@Harry_Styles: Good luck for today maaaaate! @laurarobson5" stop friend zoning everyone."

Another said: "Wait, harry styles KNOWS laura robson?"

But some were more optimistic about the idea of the pair getting close.

One wrote: "I kindaaaa think that @Harry_Styles and @laurarobson5 would be [great] together yuh."

© Getty
Laura Robson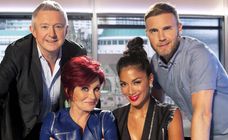 Another posted: "Harry styles tweeted laura robson are they friends omg i hope they're friends that would make me so happy."

One unamused fan took an immediate dislike to Laura, instead favouring another British sporting female: "@Harry_Styles: Good luck for today maaaaate! @laurarobson5" definitely prefer Laura Trott now."

Harry's bandmate Liam Payne, 19, also tweeted Laura a supportive message from America, where the lads are currently on tour: "I don't know if im runing late butt Good luck @laurarobson5 British #1 & @VirginActiveUK ambassador!Let's rename Murray Mount #RobsonRidge."

Laura is a huge One Direction fan - she once tweeted a picture of the boys' album with the caption: "It's a cheesy music kind of day."

And at her post-match conference at the US Open, she giggled when she was asked: "Now that you've had these big wins, do you think you're ready for more than this in the future?"

More Than This is a 1D song, so she laughed: "It's another One Direction reference."

Laura is obviously aware of the attention she's receiving from Directioners, as she tweeted yesterday: "​Lets hope the weather is a tad better tomorrow! #wimbledon p.s hi one direction fans."

© Getty
Harry Styles