While many were sad to see the demise of Ashton Kutcher and Demi Moore's marriage in 2011, lots were equally elated to see Ashton partner up former costar and small-screen fling, Mila Kunis. It was only a matter of time before these lovebirds hooked up in real life. The two knew each other before they were famous, were friends for a long time, and have been in a relationship these past few years. Is it time for wedding bells and baby carriages?
There hasn't been much talk of a wedding, but there has been baby buzz! According to reports, Mila has been taking pregnancy vitamins. The actress has indeed been spotted with a few extra pounds on her usually minuscule frame.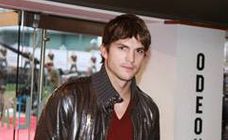 A source recently told OK Magazine: "Mila and Ashton have been trying for a baby for months. She's gained 10 pounds and is taking pregnancy vitamins. The buzz is that she is looking like she could be carrying a baby. Lately, you can't even wipe the grin off Ashton's face! The atmosphere around them is just electric."​
Funny enough, Mila was recently announced as the new spokesperson for alcohol distributor Jim Beam! She will play a large part in the new Make History multi-media brand campaign that will reach more than 100 markets worldwide. It will be the first-ever global marketing campaign for the brand.
Senior Vice President and Global Chief Marketing Officer Kevin George said: ​"Mila's love of bourbon, her appreciation for the authenticity of our brand, her warm personality and her global relevance to our Make History campaign make her the perfect partner. Anyone would want to share a Jim Beam with Mila. We love that about her, and couldn't be happier to have her join the Jim Beam family."
Mila said: "As a fan of bourbon and a huge proponent of making history, I am thrilled to be the newest member of the Jim Beam family."
Well just because she likes the bourbon it doesn't mean she's been sipping it lately!
What do you think? Are these two headed for parenthood? Tweet us @sofeminineUK ​
​