Miley Cyrus is known for her love of shock value, especially since her incredibly racy performance at the MTV Video Music Awards that included a whole lot of provocative dancing with Robin Thicke, several scantily clad outfits, and one very suggestive foam finger. So it's no surprise that Miley decided to dress up as someone who appreciates being controversial just as much as she does: Lil' Kim!

And we have to say... she knocked it out of the park with this costume! It's a dead ringer for the pop star's revealing outfit she wore to the 1999 VMAs.
Back in July, Miley revealed to Perez Hilton that she felt as though she had a deep, spiritual connection with Lil' Kim, saying, "In my past life, I feel like that was me, I feel like Lil' Kim is like who I am on the inside. She just makes me happy listening to her music."

So even though she may have once alluded to her love of the "Magic Stick" singer, we've gotta hand it to Miss Cyrus. She always manages to surprise - and dare we say impress? - with her creative costuming.

Miley posted several photos of her Lil' Kim costume on her Twitter account yesterday, with captions "Happy Halloween @LilKim" and "#OGtwerkqueen".

Lil' Kim tweeted back, "Awwww. Look at my baby @mileycyrus tonight!!! Looking GORGEOUS!!! I wish I was there to squeeze your boob




Love U so much !!!! #mytwin". How cute! Imitation is, after all, the sincerest form of flattery!
It's not the first time this week that Miley's played around with her look either. The star tweeted pics of herself trying on wigs for Halloween, including one where she sported a very girl next door set of tresses in dip dye brown-to-blonde. We think the purple look is a much better move, we're used to Miley making look-at-me statements with her hair now!

What do you think of Miley's Halloween costume? Tweet us @sofeminineUK!
Check out more racy looks from Miley!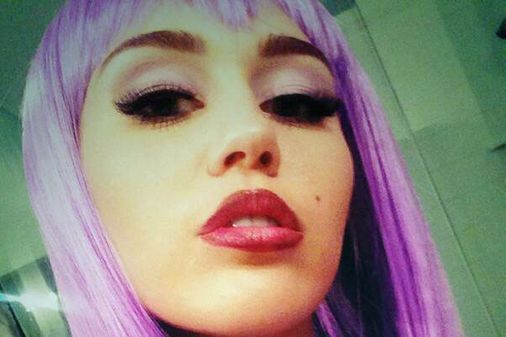 © Twitter
Miley Cyrus as Lil' Kim