Just when you thought that there was no way Miley Cyrus could be any more shocking – especially after that jaw-dropping VMAs performance – she surprises us all by looking…normal?

The former Hannah Montana star used to have shiny long golden brown hair, but she underwent a drastic makeover shortly before launching her multi-platinum album Bangerz.

Miley took a pair of clippers to her head, shaving the sides and bleaching the remaining hair peroxide blonde.

The controversial edgy makeover made her look as different as possible from her previous Hannah Montana persona, which the Bangerz singer said gave her the new-found confidence to leave her Disney days behind.
Back in July Miley told the Toronto Sun: "No one would have planned a haircut to change my life. I didn't plan a haircut to change my life. I just cut my hair and then it really changed my life.

"There's something about having no hair that it screams being confident. And I think especially because people like to put people in a box, I mean the names I've been called since I cut my hair.

"Everyone said I was a lesbian but I'm like, 'Being a lesbian isn't a bad thing. So if you think I look like I'm a lesbian, I'm not offended. You can call me much worse.'"

But before you worry that the 20-year-old star is losing her edge, she was in actual fact getting into the Halloween spirit by playing around with some wigs.

The Wrecking Ball singer posted a couple of images to Twitter, one flashback to her previous girl-next-door look and another showing her wearing a lilac Katy Perry-style wig.
She captioned them both "Wigzzzzzz" and "Wigzzzzzz part 2."

But that wasn't the only Halloween fun Miley had, as a few hours later the former Disney star also uploaded a snap showing off her pumpkin carving skills.

Her designs were pretty racy and graphic, so the controversial singer captioned the image: "Xxxxxxplicit pornkinzzz #beware #happyf**kinghalloween."

Seems like sweet Miley disappeared again as soon as she took off the Hannah Montana wig!

Do you think Miley should go back to her old look? Tweet us @SofeminineUK!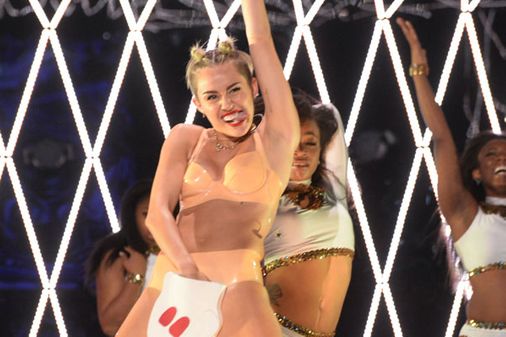 © Getty
Miley Cyrus