Miranda Kerr and Justin Bieber were seen getting very close at the last Victoria's Secret catwalk show in November 2012.

As a Victoria's Secret Angel the 30-year-old Australian model was one of the chosen few who got to walk in the annual lingerie fashion show.

While teen heartthrob Justin Bieber – who was 18-years-old at the time – was there to sing a number of his hits, including Beauty and a Beat.

Backstage there were numerous photos and videos showing the Canadian singer cuddling up to a number of the scantily clad models, including mother-of-one Miranda.

According to The Sunday People, the model's friendship and closeness with Justin was one of the reason's why her marriage to actor Orlando Bloom became strained.

The 36-year-old British actor was reportedly perplexed to find out that his wife had spent hours hanging out with Justin after the Victoria's Secret fashion.

There was even a saucy exchange between the two of them caught on camera, with Justin barely able to tear his eyes away from the model's cleavage she stood talking to him in a tiny plunging green basque.
A inside source told the Sunday newspaper: "Orlando heard that there had been some flirting going on and he wasn't exactly thrilled about it.

"Miranda had always claimed that she was a fan of Justin's music.

"She has taught her son how to say Bieber fever but it is supposed to have caused an issue."

Despite there being an 11-year age gap, witnesses claim that the pair were flirting up a storm at the VS show and then carried hanging out together at the exclusive after party at a nearby hotel.

While Justin was on a break from his on-off girlfriend Selena Gomez, Miranda was still very much married to Orlando, with whom she has a two-year-old son Flynn.

The Sunday People report that the Pirates of the Caribbean star was allegedly upset when he heard about his wife's fascination with the fresh-faced pop star.

However many have said that the rumours that Miranda's friendship with Justin in some way caused a rift between the actor and model are ridiculous.
Despite splitting things are clearly still amicable between the pair and just this weekend they were seen walking arm-in-arm after taking their son for a family lunch and walk in Central Park in New York.

Both Miranda and Orlando have removed their wedding rings, but they continue to live under the same roof in their New York home.

Previously on Friday a representative for the Lord of the Rings star announced: "In a joint statement, Orlando Bloom and Miranda Kerr have announced they have been amicably separated for the past few months. After six years together, they have recently decided to formalise their separation."

"Despite this being the end of their marriage, they love, support and respect each other as both parents of their son and as family."

Do you think there's any truth to the rumour that Justin caused marriage problems between Orlando and Miranda? Tweet us @SofeminineUK.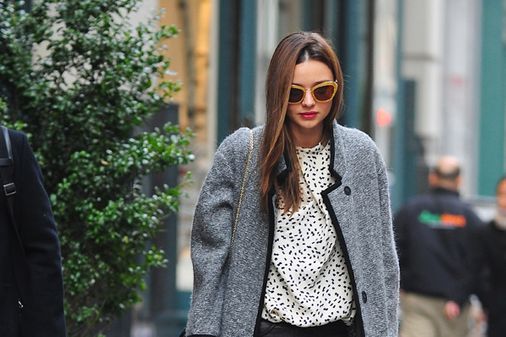 © Getty
Miranda Kerr and son Flynn