Justin Bieber has been exposed using a mop bucket at a New York restaurant as a toilet.

The 19-year-old singer has been caught on video showing no respect for anyone around him, especially not the poor worker whose job it is to clean the floors.

The video has been released exclusively on TMZ and shows the Canadian pop star laughing as he pees directly into a bucket.

It appears the bucket is located near the actual toilets but Justin's choice is a good one for the establishment as "You're not gonna remember him pissing in the restroom."

"Everybody does that."

"That's the coolest spot to piss, you'll forever remember that."
Explaining way he was acting this way Justin said: "Quick little piss break you know, quickest restroom you can get to.

"We swagger man you know, this is just a little walk to piss."

The group then display just how pleased with themselves they are as they chant: "We the f**king Wild Kidz yo!"

Just in case anyone was unsure of just how little respect the young singer had for both cleanliness and those who have to clean, he then took a bottle of table spray and aimed it at a photo of Bill Clinton.

As he did this he shouted: "F**k Bill Clinton!"

Some people have responded to the story as a sign of his immaturity and youth, others refuse to accept this as an excuse.

What do you think? Is 19 too old to be pissing in buckets? Tweet us @sofeminineUK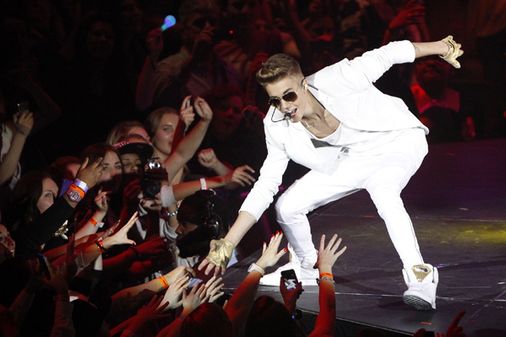 © Getty
Justin Bieber