Kanye West reportedly annoyed/upset/irritated literally EVERYONE on Anchorman 2 with his antics when he filmed his cameo.

Despite only being on set for two days, to film an appearance that was merely a couple of seconds long, the US hip-hop megastar was a massive pain to everyone he came into contact with.

The father-of-one supposedly insisted on playing his new album Yeezus – which includes his song Bound 2 that features topless fiancée Kim Kardashian – on repeat and he laid into a teenage work experience kid who told him to turn the volume down.

Even Will Ferrell, who has a reputation for being one of the nicest guys in Hollywood, couldn't fathom quite how awful Kanye was being on set.

Will, who reprises the much-loved role of Ron Burgundy, told Jonathan Ross: "It was very surreal to have Kanye – who's such a big fan of comedy – in our movie hanging out for two days.

"He was playing the new tracks a lot – over and over. Even when you're trying to film, he's playing the tracks."

"They're loud, too. We got a scared 18-year-old intern to ask him to turn them down."

Poor intern!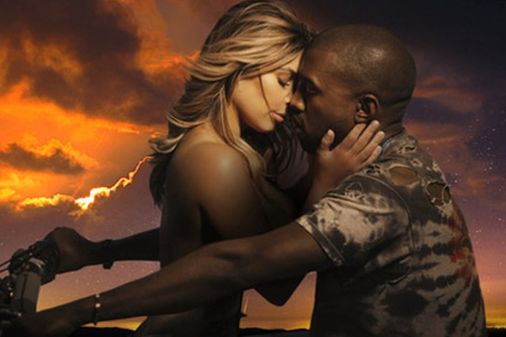 © Youtube
Kim Kardashian and Kanye West
Self-proclaimed genius Kanye – who famously compared himself to Jesus and Barack Obama – was allegedly a complete egomaniac on the film set (yes we're as shocked as you are).

To make matters worse, even though Jay Z's BFF had finished filming his cameo, apparently he stuck around and continued to annoy everyone.

Will revealed: "He hung out, even after we said: 'You're done.' He was like, 'no, no' and stayed in the background, hanging out and fighting with people."

An on-set source told The Mirror: "Kanye made a total nuisance of himself. He gave it the big 'I am' even though he filmed a blink-and-you'll-miss-it cameo.

"When an intern asked him to turn the music down, he barked back quite aggressively."

Kanye is rapidly getting a reputation for having a short fuse – a few weeks ago the rapper raged that racism was behind his album Yeezus' failure to grab a Grammy and he's had a number of violent altercations with paparazzi in recent months.

Suffice to say this is probably the last time Kanye will be invited onto a movie set to film a cameo!

Poor Will Ferrell, he should have gotten those lovely One Direction boys to star instead. Their duet with the Anchorman 2 cast on Saturday Night Live was hilarious!

Catch the full interview with Will Ferrell on The Jonathan Ross Show on Saturday at 10.05pm on ITV1.

Are you surprised by Kanye West's latest antics? Tweet us @sofeminineUK!