Kate Middleton is said to be breastfeeding her new baby son.

The Duchess gave birth to George Alexander Louis on 22nd July and is quickly adapting to life as a mum.

Just like Princess Diana did with Princes William and Harry, Kate has chosen to breastfeed her son rather than use formula milk in a bottle.

A royal source told the Sunday People: "I gather there were some difficulties at first - there often can be, as new mums can get a little tense.

"But after some help from the midwife, they both caught on very quickly. As far as I can tell, Kate finds it very relaxing and George is just like any other little baby."

It seems Kate and her husband Prince William have a rather vocal son on their hands.

The source continued: "It would be fair to say that Prince George has a healthy appetite. He is a very hungry little boy.

"He can't get enough. And they all certainly know when he's hungry - his screams are very difficult to ignore."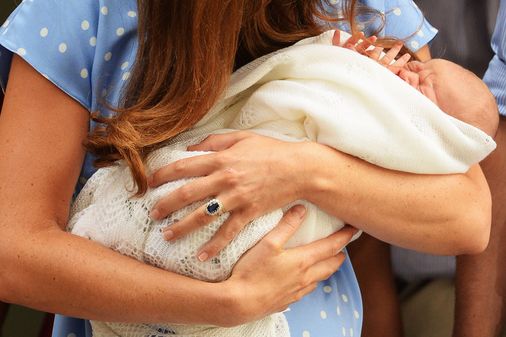 © Getty
Baby George
After George's birth the couple, both 31, spent a night at Kensington Palace before leaving for Kate's parents' house in Bucklebury, Berkshire.

Kate was snapped in the car wearing a Blossom Knot Front Lavender dress by maternity wear specialists Seraphine.

The frock costs £50 and is designed especially for new mums who are breastfeeding.

Its description reads: "The deep V-neckline enhances your new ­cleavage and provides easy breast-feeding access post birth."

As well as choosing to breastfeed her little boy, Kate is adamant that her son is not allowed a dummy.

Staff at Kensington Palace have reportedly been told by Kate and Wills that their baby son should not become reliant on a dummy.

It sounds like Will and Kate just want their new heir to have as normal an upbringing as possible.

A source said: "William wants to do all those thing that any other dad would do. He wants to push the pram and help with getting his son dressed - and, of course, change George's nappies."