Katie Price and Peter Andre are currently locked in a long-standing court battle, and the glamour model hasn't been shy about slamming her ex-husband in her book, reality TV shows and in print.

But while the pair have been far from friends, up until now they've kept their hatred of each other largely hidden from their two kids, eight-year-old Junior and six-year-old Princess.

Reportedly they've been taking it in turns to have the children for the past four years – with one having them for Christmas Eve and Christmas Day morning, while the other gets them Christmas Day evening and Boxing Day.

But this year it would appear that their previous agreement is off, as both parents are no longer willing to cooperate and share over the festive period.

An insider told Heat Magazine: "This year's worse than ever. Both Katie and Peter would love to have the kids this Christmas, but they know that one of them will miss out."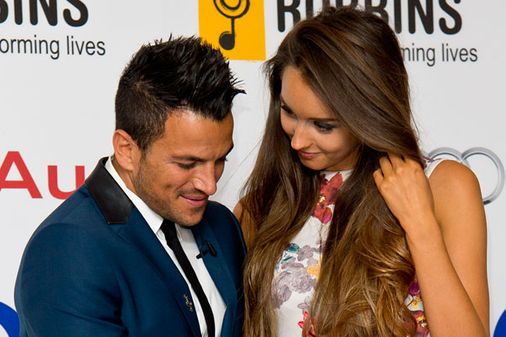 © Getty
Peter Andre and Emily MacDonagh
Apparently the couple are barely speaking – only communicating through lawyers – and both are keen for Christmas to be spent with their respective 'new families'.

Peter will be spending the holiday period with his heavily pregnant fiancée Emily MacDonagh, while Katie will be spending hers with her husband Kieron Hayler and their 4-month-old baby Jett Riviera.

The insider explains: "Jordan and Pete usually take it in turns to have the kids, and this year it was supposed to be his turn – plus, he considers this Emily's first Christmas as a mother and theirs as a family."

"He wants it to be special and that means having Princess and Junior there. He always wanted things to be amicable for the children. But with everything that's happening, that seems impossible."

Peter is allegedly keen to have his family around as it's the one-year anniversary of his brother Andrew's tragic passing, after he lost his battle with kidney cancer.

But it's not looking like Katie and Pete are set to reach a compromise. Especially as the pair are in the midst of gearing up for a painful court battle due to start in March.

Katie is suing Pete and his manager Claire Powell for £250,000 for allegedly distributing private information (namely about her supposed affair with riding instructor Andrew Gould and alleged abortion).

Gosh it looks like no one in the Price or Andre household will get what they want this Christmas.

What do you think about Katie and Pete's constant fighting? Tweet us @sofeminineUK.