Proud mama Kim Kardashian has uploaded a pair of incredibly adorable snaps of her baby daughter North West to Instagram.

The 33-year-old is used to sharing the intimate details of her life on Keeping Up With The Kardashians, so it's no surprise she wanted to show her legions of fans how her little one is doing.

So far North - or baby Nori as they call her - has only been seen a few times in public and once on Kim's Instagram swaddled up, although dad Kanye West did go on his soon-to-be mother-in-law Kris Jenner's talk show with a photo of the newborn.

The chubby-cheeked 5-month-old looks happy and smiley in the Instagram pics, which have since been liked by a whopping 825,000 people.
As well as a snapshot of laughing Nori which is captioned "LOL", there's also a pic of the little girl getting a cuddle from designer Riccardo Tisci, the creative director of Givenchy and close friend of the A-list couple.

Kim has written alongside the photo of North and the award-winning designer "#NewStylist" - perhaps a hint that her daughter is going to be the most stylish baby on the block.

With such high fashion friends, clearly little North is going to grow up to be a fashionista, she certainly already has a wardrobe bursting with expensive designer labels.
Fans of Keeping Up With The Kardashians have been sad to learn that they won't get to see North on the show as the protective parents have made it clear that the baby will be off limits.

Kim's fiancé will also continue being largely absent from the show, having only appeared a handful of times himself, despite dating Kim for almost two years now.

They did show the lead up to her dramatic emergency delivery on June 15, but since then Kanye and Kim have said that they want to raise their little one completely off camera.

Kim explained: "From the start Kanye was like, 'I'm not comfortable with selling her photos like in a magazine reveal to having her on the show.'

"See it's hard because I love seeing Mason and Penelope on the show, it's so cute, like the little things they say, but I do feel like it's just a different dynamic with Kanye."

It's not known what – if anything – the rapper will say when he finds out that his fiancée has been on an Instagramming spree, but hopefully he won't be too mad as Kim didn't have the best of days yesterday.

The curvaceous reality star was pulled over on a Los Angeles, California, freeway for speeding.

The incident inadvertently caused mayhem as photographers stopped and got out of their cars to take pictures, blocking the rest of the traffic from passing.

What do you think of the latest snaps of baby North? Tweet us @SofeminineUK!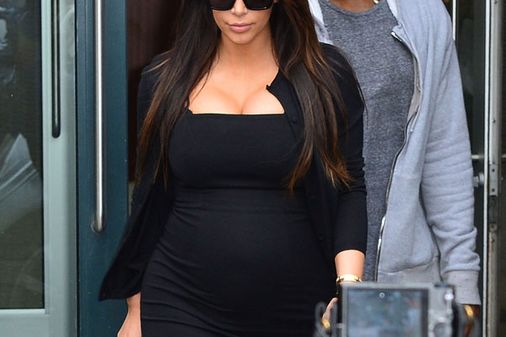 © Getty
Kim Kardashian and Kanye West