Memes all over the Internet poke fun at actress Kristen Stewart for her supposed awkwardness and her failed relationship with Robert Pattinson, but the actress is here to say she doesn't regret a thing.

In an interview for the March issue of Marie Claire, Kristen talks about everything from her so-called awkward nature to her newfound sense of emotional freedom.

Despite the drama of the past few years, Kristen has certainly come out on top. With a beautiful fragrance ad for Balenciaga and an upcoming campaign for Chanel, Kristen is quickly becoming a fashion and beauty icon, as well as a famous actress! But the star says that even with all her success, she is not quite comfortable with the limelight.

"People are like, 'She just can't handle'-for lack of a better word-'the spotlight.' No, actually, I can't, and that is totally who I am," Kristen says. "I love being an actor, but I'm the last person to want to have a birthday party. I don't try to force it or turn it into something else or fabricate this personality … so I totally agree when people say I'm, like, the most awkward person."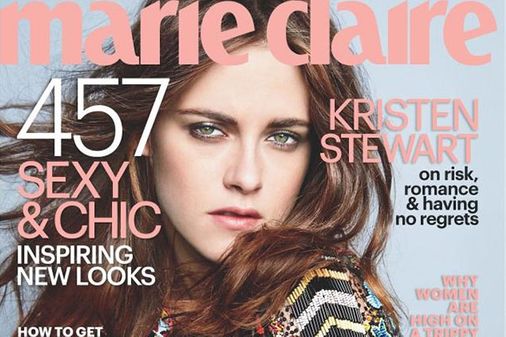 © Marie Claire
Even though she admits to being awkward, Kristen says she is trying to open herself up more. The actress says, "I was always like, 'If you put too many walls up, you can't see. You're limiting your life so drastically and in a sad way.' So I always used to say, 'I'm not putting up any walls, I'm trying to break them down,' and it seemed kind of defensive—it was definitely coming from that place. But now I'm actually maintaining like I don't live in a fortress."

This new emotional openness has not come without its own price, though. Kristen's love life has been under constant scrutiny for the past several years, ever since she began dating Twilight co-star Robert Pattinson.

The actress admits she was not expecting to find love on the Twilight set. "You don't know who you will fall in love with," she says. "You just don't. You don't control it. Some people have certain things, like, 'That's what I'm going for,' and I have a subjective version of that. I don't pressure myself … If you fall in love with someone, you want to own them—but really, why would you want that? You want them to be what you love. I'm much too young to even have an answer for that question."
When her affair with Snow White and the Huntsman director Rupert Sanders came to light, Kristen became the focus of harsh media scrutiny and public judgment. Now, the actress says, she has no regrets about her decisions. "I stand by every mistake I've ever made, so judge away."

No one quite knows what the future holds for Kristen, and that's just the way she likes it. "I really like being thrown into the unknown and then finding my way," she says. "I don't want to show someone something. I want people to watch me find something."

What do you think of Kristen's Marie Claire interview? Tweet us @sofeminineUK!