Spencer Matthews has hooked up with countless women but all the Made In Chelsea fans out there will know he'll always hold a flame to Caggie Dunlop.

The Eden Rocks heir spent most of the early series of MIC chasing after Caggie, with varied success.

Spenny, 25, claims he fell in love with Caggie when he was 16 and decided then that he would marry her - and he still hopes they'll end up together.

But it hasn't quite gone to plan so far. Though he managed to seal the deal with his crush in Finland back in 2012, it didn't quite go to plan.
Spencer recalls the night in his book Confessions Of A Chelsea Boy: The Autobiorgaphy: "Caggie and I were particularly poorly behaved, having drank the hotel's entire vodka cellar.

"We only just about made it back to the cabin.

"Had I know that the seven years of waiting was going to come to an end then and there I would've prepared better. Perhaps drunk rather less…
"It was like a bad comedy in some ways, but nonetheless it was an important milestone in my life."
Needless to say, the night was a one-off and Spenny went on to date Louise Thompson, Lucy Watson and, more recently, Stephanie Pratt.

The MIC star this week confirmed he's single again and that his brief romance with former Hills star Stephanie was like a "ticking time bomb".

And we're sure Stephanie's probably considering it a lucky escape as Spencer's book also blabs about his night with a prostitute when he was just 16.

The reality star was on holiday with his mate Bob in South Africa when they decided to embark on a competition of who could sleep with the most women.

The boys were in a bar getting drinks when a woman "strode up" to Spencer.

© Getty
Spencer Matthews and Stephanie Pratt
He recalls in his autobiography: "She made it clear she was really into me. It seemed reasonable, as I was wearing my favourite shirt.

"We finished our drinks and disappeared off. I didn't even have to go into detail about my training to be an astronaut or any of my usual chat up lines.

"On the way out, I caught Bob's eye and he laughed. Later I'd learn why."

The pair went upstairs and Spencer describes the sex as "sensational".

But when he asked his lady friend afterwards if she'd like to go downstairs for another drink, he was in for a shock.

Spencer remembers: "She replied, in a very relaxed manner: 'Sure. After you give me my hundred rand.'

"My heart sank. Not only had I slept with a prostitute, which I never thought I would, but I'd unintentionally played outside the rules as, of course, professional girls don't count."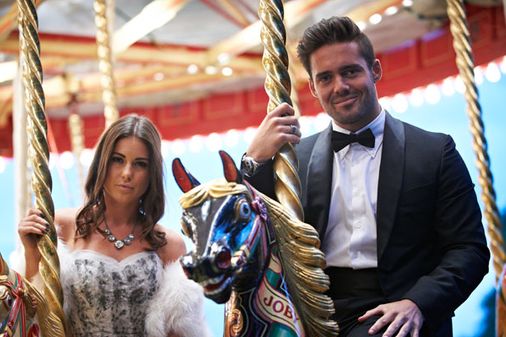 © Channel 4
Louise Thompson and Spencer Matthews