This weekend on the X Factor Nicole Scherzinger was renamed Nicole Slurzinger.

The 35-year-old's erratic appearance on the show on Saturday night sent Twitter into meltdown as many speculated that the TV judge was drunk.

Although she's always been quite enthusiastic on the show, this weekend Nicole was more animated than ever before, shouting comments and waving her arms around wildly whilst her 'Scherzy girls' sang.

After her contestant X Factor hopeful Abi Alton sang, Nicole crudely shouted: "You grabbed this week by the disco balls."

She then failed to realise when host Dermot O'Leary turned to her so that she could introduce her act, leading to a fairly noticeable awkward silence.

Her onscreen antics sent Twitter into a frenzy as many clocked Nicole's slurring and crazy behaviour.

Viewer Cillian Murray asked: "Was Nicole Scherzinger drunk on #Xfactoruk?? needs to tone it down a bit, TOOMUCH."

X Factor fan Ayesha Marie tweeted: "Nicole Scherzinger seems drunk, 3rd degree slurs."

Gemma Hodgson added: "100% think that Nicole Scherzinger is drunk whilst judging tonight's show!!"


Dancer, Songwriter, Singer
born 29/06/1978
Supposedly even TV bosses were left open-mouthed at the Hawaiian singer's antics and over-the-top TV performance, asking her aides if she had been drinking prior to taping the show.

But her representatives slammed the speculation she may have turned to the bottle before the show, with a spokesperson saying "she was getting into the disco spirit."

Despite the denials, The Sun allege that Nicole had hosted a bash for her family who had flown in specially from Hawaii to see the disco-themed ITV show.

It's claimed that they partied backstage in her dressing room and then once Saturday's show finished she took her family off to The Cuckoo Club to carry on the party.

In an attempt to clear things up once and for all, an insider told The Sun: "Nicole had been to see her girls during the day and knew they were going to do well with the disco theme that night so she was pretty relaxed and decided to kick back and have a party.

"Her family were over from Hawaii and before the show she was dancing and spinning disco classics for them. Everyone was pretty excited and went a bit wild.

"After the Twitter reaction from viewers, staff did ask her people if she'd been drinking and they said she hadn't. There wasn't any evidence of empty bottles in her dressing room afterwards."

But while Nicole was overjoyed to have her family come visit from halfway round the world, the singer wasn't too pleased on Sunday when her act Tamera Foster was placed in the bottom two.

Luckily she was saved, whilst Gary Barlow's act Kingsland Road were given the boot.

Did you think Nicole had a few too many this weekend? Tweet us @SofeminineUK.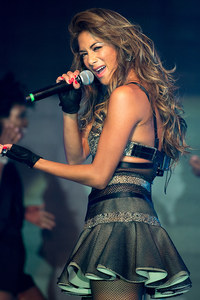 © Getty