James Arthur has slammed the musical talents of the biggest boy band on the planet, One Direction.

In response to an abusive Twitter user he claimed the band don't sell music - they sell merchandise.

With a book, world tour, film, perfume, life-size cut-outs, t-shirts and even nail varnish to their name, you can see what he was alluding to.

But it's still pretty harsh and many fans are disappointed that he should say such things after 1D were supportive of his victory in last year's X Factor.

The Twitter troll apparently initially reacted to a retweet James posted: "It's ironic that the lowest rating xfactor ever looks like to have produced its biggest star."

It prompted the individual to tweet him: "Hate to be a buzz kill but one direction are the highest grossing artists around ATM - James is s**t x."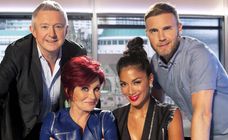 James reacted to the troll, who then uploaded a screen shot from his phone of his direct message from the singer - which contained some less than complimentary things about One Direction.

James had said: "What the f**k is your problem! Why don't you go and invest in a life instead of posting hate on Twitter you sad f***ing idiot.

"And One Direction don't sell records, they are a marketing product. They [sell] T-shirts and dolls you moron. Let's see you eat your words in time. Loser."
1D fans have expressed their sadness at the claims, while X Factor veteran Steve Brookstein - who's no stranger to the Twitter beef - also got in on the fight.

But his post was written in an effort for us to read between the lines when it comes to James' harsh words.

James later addressed the media attention his words had received to deny he'd slammed the boys.
He tweeted: "Haha twitter rant attacking one direction..? Really?? The papers hate me lol I was argued with some know it all, I did not attack 1D #LOVE.
"​I like the 1D boys a lot they have been very supportive of me.. I merely said they are a huge marketing super power.. Which they are..​"

Good thing James qualified that before Louis Tomlinson got a chance to put his oar in - he loves a scrap.

© Getty
One Direction