While most people have one or two godparents, little George is lucky enough to have seven.

They include William's cousin and Olympic equestrian Zara Tindell, university friend Oliver Baker, KM's longtime friend Emilia Jardine-Paterson, Earl Hugh Grosvenor (who the son of one of William's own godparents, the Duchess of Westminster), their Principal Private Secretary and Equerry Jamie Lowther-Pinkerton, Julia Samuel (a close friend of Princess Diana's) and family friend William van Cutsem.

Fun fact: little George even beat out his dad, Prince William, by one godparent. William claims six godparents!

Other attendants at the christening included Prince Charles and his wife, Camilla, Michael and Carole Middleton, Prince Harry, Kate's siblings Pippa Middleton and James Middleton, and of course Queen Elizabeth and Prince Phillip.

The world finally got to have a much-awaited second look at bonnie Prince George, as he was christened at an intimate family ceremony at St. James' Palace.
Hundreds of well-wishers, some dressed in Union Jack clothing, lined up outside the Chapel Royal hoping to catch a glimpse of the Queen, the baby, and the rest of the thrilled guests.

According to reports, wide-eyed curious George was bounced in his dad's arms and soaked up the attention as William told waiting guests, "He's all ready", adding: "So far so good"​.

A royal source revealed to the Mirror: "George looked like a happy little chap through it all and was taking it all in his stride."

While other royal babies have worn a lace gown handed down since Queen Victoria's reign, the latest heir was decked out in a handmade version created by Angela Kelly, dressmaker to the Queen.

The insider added: "George's gown is a replica but it will be worn by future generations and so forms a lovely part of his relatives' history."

A sweet post-christening party was hosted by Prince Charles and Camilla at Clarence House, and reportedly their was one very special item on the menu: a tier of Kate and Prince William's wedding cake from 2011. They saved several tiers of it for occasions such as this!

Congratulations to the proud parents!

Do you love Kate Middleton's Alexander McQueen outfit as much as we do? Tweet us @SofeminineUK!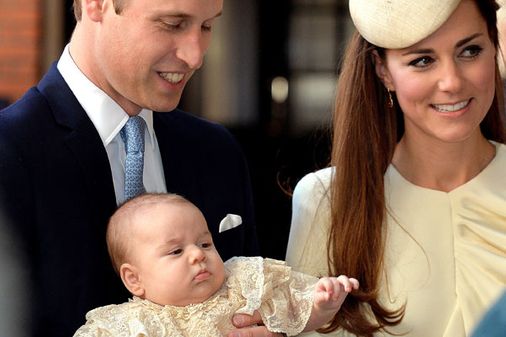 © Getty
Prince William, baby George and Kate Middleton