Photos have emerged of Justin Bieber after he reportedly stripped off and serenaded his grandma.

Yes, really.

US website TMZ has published nude snaps of the Baby singer as he knocks on his grandma's door, with just a guitar to cover his modesty.

Justin was home with his family for Canadian Thanksgiving last October when he woke up at his grandma's home and hatched his master prank.

According to reports, the 19-year-old stood in the corridor and belted out lyrics including: "I Love you Grandma".

Though Justin's grandmother is said to have laughed along with his joke, she was soon begging him to put his clothes back on.

This weird practical joke is just the latest in a long line of bizarre behaviour from Justin.

His other recent antics including peeing in a mop bucket outside a restaurant and getting chucked out of numerous clubs.
He also came under fire last month when he was snapped spitting off the balcony of his hotel room in Toronto.

The singer had earlier posted a photo of thousands of his fans gathered below, but he later denied he'd spat onto the crowd.

And this came just weeks after the singer was accused of spitting in a DJ's face in Ohio.

Many were up in arms about Justin's gobbing, with blogger Rebekka-Mary Darling writing: "Justin Bieber spitting? Seriously? Can't you afford a tissue with all your millions? It's revolting."

And British-born US gossip columnist Rob Shuter posted online: "I'm so over this clown."

Nonetheless, Justin can still rely on his Beliebers.

Loyal fan Chloe Price said: "What's so bad with Justin spitting on fans? Every girl in the world would love to get spat on by Justin."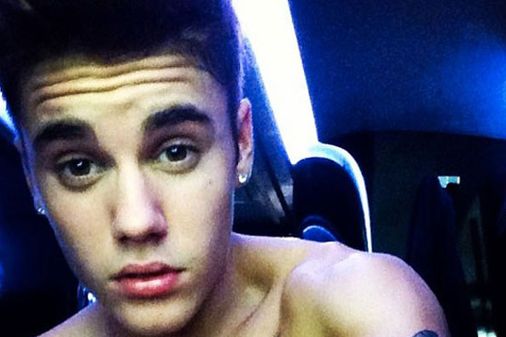 © Getty
Justin Bieber