Olly Murs has a secret girlfriend he met backstage at V Festival.

The cheeky Essex boy, who's famed for being unlucky in love, has been dating commercial property manager and aspiring model Francesca Thomas for more than a year.

Olly, 29, met 24-year-old Francesca at V Festival in Chelmsford, Essex, last August.

A close source told The Mirror: "Olly was enchanted by Francesca as soon as he saw her and it is obvious why. She is beautiful.

"They became close really quickly. They both grew up in Essex and used to go out to the same places so had loads in common.

"She makes him laugh and they got on straight away."

The pair have been keen to keep their romance under wraps, but have enjoyed a string of extravagant holidays together.

© Twitter
Francesca Thomas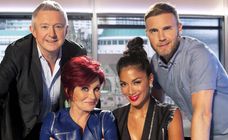 Olly and Francesca have flown to San Francisco and Dubai and the singer has also lavished his other half with gifts including jewellery and even a new white Mercedes convertible.

The romance was outed when fans spotted them in Dubai.

A photo was later posted online of the pair together, smiling and swimming with dolphins.

The source continued: "Francesca is intelligent and has a successful career in her own right in London. But since meeting Olly she has been living the dream and visiting some amazing places with him.

"Things are really serious between them and they spend as much time as they can together, although it isn't always easy as Olly is so busy."

Though Olly has spoken about his desire to find a girlfriend in the distant past, last year he hinted he might have achieved that wish.

He revealed: "I've recently been on my third date with some lovely lady, which is great. Just a date. I can't say the name - it's early days."
And two months later he added: "It's all early days. I only just had a day off for the first time in four weeks yesterday, so that says it all.

"I'm very good at keeping things under wraps. I've not been a nun!

"But I keep that side of my life very quiet. When I finish my work I go home to Essex and get on with my life."

And there are subtle hints on Francesca's social media pages that she is Olly's girlfriend.

The pretty blonde posted a photo of herself with Robbie Williams on her Instagram, who Olly has been supporting on tour.

And just before V Festival this year, she wrote on Twitter: "It's finally Friday and I'm about to embark on yet another amazing weekend this past year has brung!"