Rita Ora has been cast in the 50 Shades of Grey film adaptation as Christian Grey's sister, Mia.

The pop star tweeted happily about her involvement in the film last night, writing: "It's official! I've been cast in @FiftyShades of Grey as Christian's sister Mia. #FiftyShades."

This role marks a change of career for the 23-year-old, who has previously mentioned her interest in acting.

In the novels, Mia is described as bubbly and outgoing, fluent in French, plays the cello and studied cooking in Paris. Rita can totally pull that off!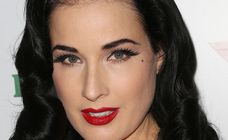 © Getty
Rita Ora
She said: "Acting is something I'd love to get into eventually, especially action films. I'd be the Bond girl who fights."

Apparently the RIP singer always fancied herself as a bit of an actress, as she attended the Sylvia Young Theatre School in London when she was a teenager.

Rita also appeared in Fast and Furious 6 in a cameo role, impressing co-star Vin Diesel, who said of her acting: "We wanted somebody who represented today's London and have that presence to kick off a race of that style and she was just perfect and she was game to do it."

"We were lucky to get her and we were lucky that she came in and kicked butt."

The film, which has already started filming in Vancouver and is being direction by Sam Taylor-Johnson, has already had its fair share of drama.

The male lead Charlie Hunnam dropped out of the project due to "conflicting schedules" to be replaced by Jamie Dornan, something absolutely no one complained about.

Seriously that man is gorgeous.

Are you happy with this cast choices for the film? Tweet us @Sofeminineuk