It's been ages since the MTV Video Music Awards, but everyone is STILL talking about Miley Cyrus and Robin Thicke's notorious performance.
Even the Blurred Lines singer can't shut up about it!
"Just remember, I'm singing my butt off. So I'm sitting there, I'm looking up at the sky and I'm singing," he said in an interview with Oprah.

"I'm not really paying attention to all that. That's on her. People ask me, 'Do you twerk', I go 'listen, I'm the twerkee. I'm twerked upon. I don't twerk myself.'"
​
The performance - which saw Miley wearing nothing but a flesh coloured PVC bikini and gesticulating explicitly with a foam finger - has become the most tweeted about event in the VMAs' history, with Twitter users generating 360,000 tweets about the event per minute, as reported by MTV News.
During the interview, Robin acknowledged the controversy surrounding the performance, stating: "It was funny to me. It's silly. I was walking out towards Miley, I'm not thinking sex, I'm thinking fun, you know?"

Despite the 36-year-old Blurred Lines singer's determination to give Miley the full brunt of the blame, Robin contrarily admitted that he was fully aware of Miley's plans.

In an interview with Vanity Fair, Robin explained that he told Miley before the show: "Let's give [the audience] something they're not ready for. Let's make them talk."
​
Miley has also spoken up following Robin's revelation, claiming that he had full knowledge of her planned frolics.
"He was in rehearsal as much as I was and loving it, people," she said. "Robin Thicke was on stage as well, no one talks about that. No one cares about the man behind the booty.

​"You only care about the one that's shaking it. Double standard."

Do you think Robin Thicke was as much to blame for the performance as Miley Cyrus? Tweet us @SofeminineUK!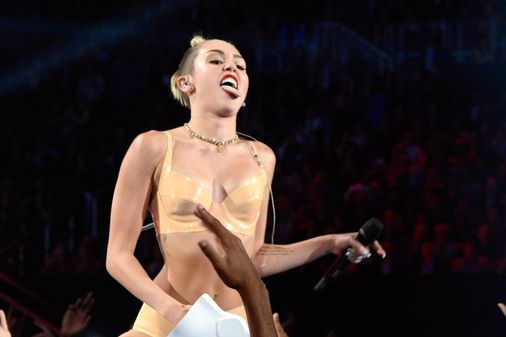 © Getty
Miley Cyrus