Scott Disick's mother Bonnie - who was once featured on Kim & Kourtney Take New York - has passed away unexpectedly.

A relative of the family has revealed that Scott is "devastated" by the loss of his 63-year-old mother.

"Scott and Kourtney travelled from Los Angeles to Long Island for Bonnie's funeral," an insider tells RadarOnline.

"It was a small affair. There was just a handful of people. No other Kardashians beyond Kourtney attended. But the entire family is saddened with the news of Bonnie's passing. They loved her so much."

The 30-year-old has been spotted in New York this past week – where his mum lived – with fiancée Kourtney looking pale and drawn.

The family member added: "Scott was very close to his mother."

Scott who is usually a constant presence on social media, has been silent on Twitter and Keek since November, 5.
He was raised by Bonnie and his father Jeff in Long Island, New York, although soon after he began dating Kourtney Kardashian, Scott moved to Los Angeles where he has lived ever since.

Scott – who jokingly refers to himself as Lord Disick – currently resides in Calabasas with Kourtney and their 3-year-old son Mason and one-year-old daughter Penelope.

Although Scott lived on the other side of the country from his mother, he was supposedly still very close to her and she doted on her two grandchildren.

Last week it was not known why Kourtney and Scott were absent from Kris Jenner's 58th birthday in LA and the family Christmas card shoot, but now the reason why seems clear.

Although Kourtney couldn't be with her mum on her special day, on Instagram the reality star posted a collage of pictures of them both, with the caption: "Happy happy birthday to my mommy! Thank you for inspiring and teaching me so much. You are the best mother and friend. I love you! Shake it like a Polaroid picture."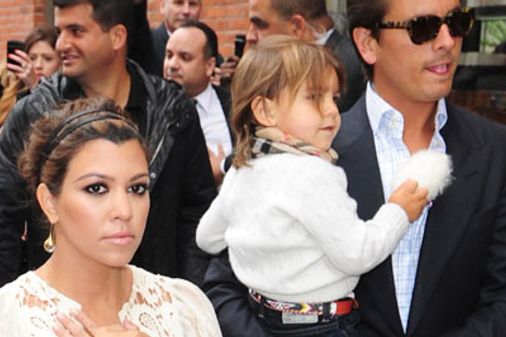 © Getty
Scott Disick, Kourtney Kardashian and son Mason