Simon Cowell seems unfazed by the drama surrounding his lovechild.

It was sensationally revealed last week that US socialite Lauren Silverman is pregnant with the music mogul's first child.

But not one to shy away from the attention, this weekend Simon chose to attend a One Direction concert in Las Vegas.

The 53-year-old flew into the party city by private jet to watch the band he put together and has managed since The X Factor 2010.

A source told The Sun: "Simon had a good laugh with the boys. They were pleased to be among the first to congratulate him on his baby news and were very happy to see him."

A 1D fan at the Mandalay Bay gig even tweeted that Simon was "jumping up and down" and was "too excited".

At one point, Niall Horan, 19, asked Simon from the stage if they would get "through to the next round" of X Factor.

He jokingly replied: "No."

Good to see the notoriously tough music boss hasn't lost his sense of humour.

Simon is now set to head off to St. Tropez on a yachting holiday - without 36-year-old mum-to-be Lauren.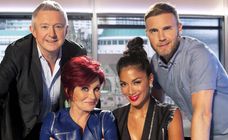 Controversially, Lauren is married to Simon's friend Andrew Silverman, though the couple have been estranged for a while.

Nonetheless, Andrew has filed for divorce and is said to have cited adultery in the legal papers - and has even allegedly named Simon.

This means he could be forced to give evidence in court.

It was revealed this weekend that Simon had ended his romance with Lauren six weeks ago, shortly before he found out she was expecting their child.

He reportedly told a friend: "It's over with Lauren - it has been since before anyone knew she was pregnant. I want matters resolved but in a sensitive way.

"I have to respect a lot of people's feelings. There's a lot of people's feelings here."

Nonetheless, Simon has vowed to stand by Lauren, who's been branded a "gold-digger" and has even been accused of deliberately falling pregnant by multi-millionaire Simon.

But Lauren's mum Carole Saland has defended her daughter, who is now 10 weeks pregnant, against such claims.

She told The Sun: "Lauren is not a gold-digger. She came from a very comfortable family and never lacked for anything.

"Her and Simon are very fond of each other. She tells me great things about him and has always spoken very highly of him...

"I trust Simon to do the right thing by my daughter."

© Getty
Lauren Silverman, Sinitta and Simon Cowell