Simon Cowell has finally opened up about his upcoming role in life - being a father.

The music mogul was out last night to support his biggest business success, the boys of One Direction.

But reporters wanted to know more from Simon than just his thoughts on This Is Us - he was forced to answer a few questions on the recent revelations that his ex-lover Lauren Silverman is pregnant.

The X Factor boss admitted that becoming a dad was not something he'd considered or planned, but now that it's happening, he's happy.

In an interview on the red carpet, he said: "Things are changing in my life right now, for the better. I'm proud to be a dad.

"It's something I hadn't thought before, but now I feel good about it. She [Lauren] is a very special girl."

Asked if he was prepared, he replied: "I'm ready for that role, I'm very happy and very excited."

So with One Direction breaking all the records, will he show his appreciation by naming his child after one of them?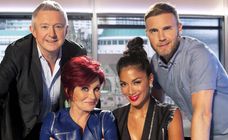 Looks like he might struggle to choose. He said: "I like all of them!"

Meanwhile, X Factor host Dermot O'Leary ruled himself out as godfather.
He joked​: "I can't afford the presents."

Simon made more allusions to his baby-daddy status when he said with a smirk that 1D's fly-on-the wall documentary film was "a dream. I feel like a father."

He continued: "I always dreamed as a kid if I could produce a movie - it's fantastic.

"This is the first but hopefully won't be the last.

"It was an incredible experience. Anyone who wants to know what it's like to be in a band needs to watch this movie."

He ended by saying: "I'd like to say a special thank you to the fans. Without you we wouldn't be here."

Check out all the gossip from the premiere, including Perrie Edwards' diamond ring.

And take a sneak peek at some of the fun facts we learnt about the five heartthrobs in the movie.

© Getty
This Is Us cast and crew