Simon Cowell has spoken out for the first time since the story broke that he's set to become a dad.

The X Factor boss is said to be expecting his first child with Lauren Silverman, which came as a huge shock to us all as he'd never even been linked to the socialite.

The situation remains very delicate as Lauren is in the middle of her divorce from Simon's old friend Andrew Silverman.

Nonetheless, we're dying to know Simon's stance on the whole situation - is he excited to be a father?

The 53-year-old told reporters at a press panel for US X Factor: "Unfortunately, I have to keep this private for the moment.

"It's just one of those things, but thank you anyway."

Pressed for more of an answer, Simon joked and feigned ignorance to the story.

The reporter asked: "The new baby - were you as surprised by the news as we were?"

Simon responded: "I haven't read the newspapers. Am I missing something?"

But it wasn't long before Simon decided to be serious and reassure us we will know the full story eventually.

He told his audience: "There are a lot of things I will eventually clear up when the time is right."

He added: "I really have to be sensitive here because there are a lot of people's feelings involved."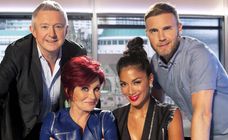 When asked if he could reveal how he's feeling, Simon candidly replied: "I would love to, but I have to respect a lot of other people's feelings."

Speculation over when and how Simon's liason with Lauren came about has been all over the media.

The Silvermans' divorce is underway, and it's been alleged that Andrew has named Simon in the papers.

This means the music boss may be called to court to give evidence.

Mr Silverman said in a statement: "My top priority is protecting my seven-year-old son while working to resolve all outstanding issues with my wife.

"Hopefully people can respect the interest of our child during this process."

Meanwhile, Lauren has kept fairly quiet on the matter but has been accused of "unbelievable betrayal" and has even been labelled a gold-digger.

The 36-year-old said briefly in a statement: "I am committed to sorting things out with Andrew as amicably as possible to ensure the well-being of our son.

"I would hope for some space and privacy in order to work through this."

© Getty
Simon Cowell