The Wanted's Nathan Sykes is waving a white flag to boyband rivals One Direction.

The 20-year-old singer has expressed his wish to collaborate with the Best Song Ever group.

He's also insisted that the fight between the lads isn't as extreme as the press makes out.

Nathan has never personally been named in any of the squabbles and explained to The Sun: "They are great lads who have stayed true to their sound so far in their career."

When asked if they would consider a Wanted/1D collaboration, he replied: "That could generate a lot of cash maybe and we would actually be willing to do it for charity."

The bands have been feuding for months after comments were repeatedly made by certain members in interviews and on Twitter.

Top culprits from The Wanted are Max George and Jay McGuiness.

1D have given as good as they got with Louis Tomlinson rising to any beef that comes their way.

© Getty
Nathan Sykes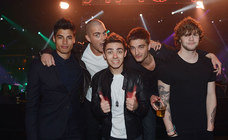 Back in June, Max suggested a less peaceful solution to their issues, proposing a charity boxing match.

The 24-year-old said: "If they have got an issue, why don't we actually do something financially - like make some money for charity and blow off some steam in the boxing ring?

"I don't think there is a better idea, other than that I don't want anyone to get savagely hurt."

Nathan's contrary attitude backs up the general view that he doesn't fit in with his bandmates as well as he'd like.

He's five years younger than some of his fellow singers and has often felt left out, especially in the US where he's still not of legal drinking age.

He told Ryan Seacrest: "I get left out so much, they're just like: See you later!"

He explained that the age gap was even more obvious when the band first formed: "It was tough, there were moments where I'm sure they were like, 'How can I work with a 16-year-old?' And I was like, 'How can I work with 21-year-olds?'

"And they were crazy at the time as well."

Room for one more at One Direction?

© Getty
One Direction