-------------------------------------------------------------------------------------------------------------------
Harry Styles, Niall Horan, Zayn Malik, Liam Payne and Louis Tomlinson are pretty excited about the debut of their first ever film...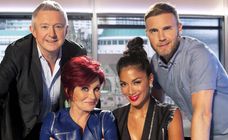 © This Is Us
This Is Us
Meanwhile, the lads' biggest fans have been camping out at Leicester Square...

© Getty
One Direction fans camp out for This Is Us premiere
Hardcore Directioners are - of course - getting pretty hysterical at the thought of extended viewing of their favourite five boys...
While others have a bit of a "we found them first!" attitude about the whole thing...
Some have turned nasty - if anyone dares live tweet the movie tonight there will be hell to pay...
Want to remind yourself what all the fuss is about? Here are the boys chatting about the film at its press conference:
-------------------------------------------------------------------------------------------------------------------

© This Is Us
This Is Us