Working with children, especially trying to get them to sit still for long lengths of time, can occasionally be challenging. Luckily Myranda didn't have to worry about that in this instance, probably because Disney Princesses are better behaved. Just out of interest, have any little girls ever said no to an afternoon posing as princesses? Doubtful. Seriously doubtful.
The main roles belonged to two-year Claire and her one-year-old cousin Chloe. The two were allowed dress up in their favourite fairy tale character costumes, from Snow White to Cinderella, to make us all go AWWW.

They even posed with a bona fide wolf for Little Red Riding Hood. Though it MIGHT have been their pet dog, we couldn't say.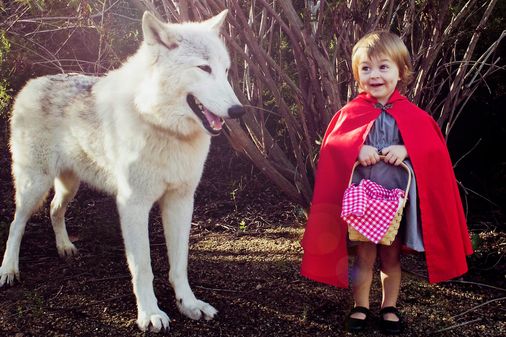 © myrandajosephsonphotography.com
The fairytale photos have taken off, and the photographer is already planning another series which will include The Little Mermaid and Beauty and the Beast. We absolutely cannot wait for the continued cuteness!
Which Disney character would you like to see in minature? Tweet us @sofeminineUK
You might like...
We Can't Decide Which Is Cuter: The Puppy Or The Baby?

TOO CUTE! These Pictures Of Snoozing Babies Will Melt Your Heart

Cute Overload: Tiny Dog Teaches Baby How To Crawl