SPOILER ALERT!
The Hollyoaks death-toll is about to steeply rise once more after a catastrophic blast tears through the village.

It's been claimed that five characters will not survive the tragic incident, but it's not known who exactly will be leaving the hit Channel 4 soap.

E4 viewers will be treated to a first-look episode tonight, where rumour has it they will see Dodger, Doug and Ash meet their end.

The cliffhanger from last night's episode of Hollyoaks showed the devastating blast.
Immediately #HollyoaksBlast began trending on Twitter as upset fans expressed their shock and outrage at losing so many of their favourite soap characters.

One fan said: "My heart has broken into a thousand little pieces #STOUG #HollyoaksBlast."

Another wrote: "Actually cant get over this hollyoaks episode, why doug why dodger why ash like seriously they're the best ones."

"Tried to hold back the tears to Hollyoaks, but the fact Dodger, Doug & Ash are dead upsets & p***es me off soooooo much!" added a different viewer.
Earlier this week Hollyoaks star James Atherton, who plays Will Savage on the soap, revealed to Digital Spy how he hoped fans would reaction to the grim storyline.

The 25-year-old said: "It's so exciting and Hollyoaks is as its best when each aspect of the village comes together in one place, and that's exactly what happens here."

"Different stories are intertwining to affect everyone else. It's literally explosive!"

What do you think of the Hollyoaks blast storyline? Are you going to watch the soap tonight? Tweet us @SofeminineUK!

Check out this week's and next week's Hollyoaks spoilers and our behind-the-scenes pics: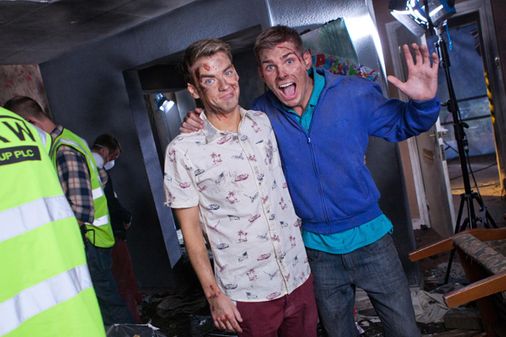 © Limepictures
PJ Brennan and Kieron Richardson