Beyoncé has uploaded a second behind-the-scenes video to give fans a further insight into her amazing self-titled visual album, which has already taken the charts by storm.

Within the four-and-a-half minute clip, Bey tackles the subject of feminism, trying to crack the music industry as a child and how that inspired the song and video for her latest track Pretty Hurts.

The proud mama also can't help but gush about her gorgeous daughter Blue and her devoted rapper husband Jay Z in the inspiring new video.

Beyoncé starts off discussing her first big rejection as a child, explaining: "When I was in the studio I was threading the songs together and I thought of this performance which was a really defining moment in my life as a child.

"In my mind we would perform on Star Search [a TV show singing competition], we would win and we would get a record deal, and that was my dream at the time. There was no way in the world I would ever imagine losing as a possibility.

"You know I was only nine-years-old, so at that time you don't realise that you could actually work super hard and give everything you have, and lose.

"It was the best message for me…the reality is sometimes you lose."
In terms of feminism, Beyoncé praises Nigerian author Chimamanda Ngozi Adichie and her message that the destructive way women are raised to see each other as competitors for male attention.

That inspired the multi-platinum Grammy-award winning artist in creating her latest hit album.

"My message behind this album was finding the beauty and imperfection."

In terms of her song Pretty Hurts, where in the video she's a contestant in a beauty pageant, Beyoncé reveals that she "had this image of this trophy and me accepting these awards and kind of training myself to be this champion.

"And at the end of the day, when you go through all of these things, is it worth it?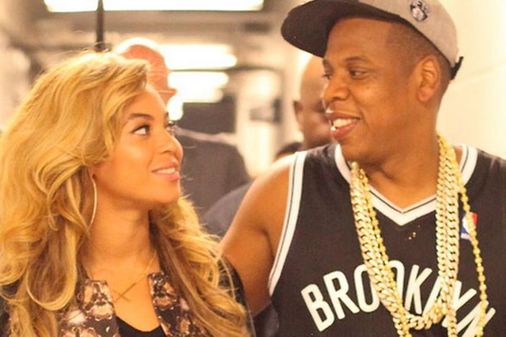 © Tumblr
Beyonce and Jay Z
"When you get this trophy and you're like I've basically starved, I've neglected all of the people that I love, I've conformed to what everybody else thinks I should be and I have this trophy…What does that mean?"

"The trophy represents all of the sacrifices I made as a kid. All of the time that I lost being on the road, in the studios as a child and I just want to blow that sh*t up!"

Although she's worked hard throughout her career, being a mum has taught Beyoncé that nothing is quite as important as her little one.

Cutting to clips of her new videos and home footage of Jay Z and Blue Ivy, the Bow Down songstress says: "I have a lot of awards and I have a lot of these things that are amazing and I worked my ass off.

"I worked harder than probably anyone I know to get those things. But nothing feels like my child saying, 'Mommy!' Nothing feels like when I look my husband in the eyes.

"Nothing feels like when I'm respected. When I get on the stage and see that I'm changing people's lives. Those are the things that matter.

"And at this point in my life these are the things that I am striving for. Growth, love, happiness, fun, enjoy your life – it's short. That's the message."

What do you think about Beyoncé's latest video? Do you agree with her? Tweet us @sofeminineUK!