At last year's Oscars Jen made headlines by falling up the stairs while on her way to collect her Oscar for Best Actress in Silver Linings, but this year she decided to get her fall over nice and early on in the evening. While arriving on the red carpet the actress tripped up, falling onto a member of her party and immediately laughing off her wobble in true J-Law style.


Film actress, TV actress
born 15/08/1990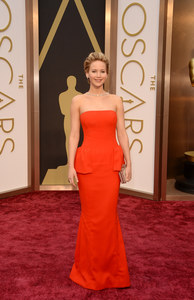 © Getty
Once again Jennifer Lawrence was dressed in Dior when she took a tumble - we're thinking it might be an idea to change designers next year eh Jen?


Love J-Law as much as we do? Tweet us @sofeminineUK