Even Simon Cowell couldn't have predicted the superstardom of One Direction.

If he did, he's a sorcerer for sure.

The release of This Is Us, the behind the scenes documentary following the boys around, has caused their fame to go up even more.

No, we didn't think it was possible either.

And it's not just their profile, it's also their almighty bank balances.

The film has already broken records grossing just under $50million worldwide.

And it seems that just isn't enough.

Fans will get the chance to see an extra 20 minutes of footage from director Morgan Spurlock's fly on the wall film.

The band are releasing One Direction: This Is Us – Extended Fan Cut.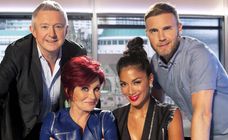 The added minutes will include four more songs as well as scenes of the boys returning to the X Factor stage - the stage that put them on the map.

Niall Horan does cheeky impressions of Louis Walsh while the boys take a moment to laugh and reflect on how far they've come.

Sony boss Jeff Blake said: "We're overwhelmed by the response to the film, so we're thrilled to be able to release this extended cut of the film for One Direction fans.

"Followers can reach out on Twitter @1DThisIsUs with the songs they'd like to hear in the film – and go to the theater on Friday (US only) to see and hear which songs make the cut."

If you're yet to see the movie – how is that possible?! – you can check out just what we learnt about our favourite boy band right here.

We'd like to say 20 minutes isn't worth it but they really are adorable!
Will you be checking out the extended cut of This Is Us? Tweet us @SofeminineUK!​

See a sneak peek of one of those added scenes here:

© Sony Pictures
One Direction in This Is Us