Prince William proved at last night's Winter White Gala that in a parallel universe he could have probably carved out a career as a rock god.

The second-in-line to the throne held a charity function last night with Taylor Swift and Jon Bon Jovi to raise money for the homeless charity Centrepoint.

A video has surfaced of the trio performing an impromptu rendition of the legendary Bon Jovi hit Livin' On A Prayer, to rapturous applause from the audience.

While pop princess Taylor looked comfortable taking the stage, Prince William looked ever so slightly nervous, adjusting his bow tie and clasping his hands together.

But he soon got the hang of the singing malarkey and it was a surprisingly tuneful performance, which ended the fantastic fundraising event on a high note.
Earlier in the evening, Prince William had greeted his 'bandmates' Jon and Taylor in the Kings Gallery at the State Apartments, before the three of them took to the blue carpet (instead of a red carpet, as it fit in better with the evening's theme).

As well as hanging out with his A-list guests – including Benedict Cumberbatch, Michelle Dockery and Tinie Tempah – Prince William met a whole host of young people currently being supported by Centrepoint, some of whom also performed at the event.

At one point the husband of Kate Middleton was even said to have attempted a bit of twerking, to which one of the guests Olivia Sabat told him: "I said 'No thanks, no twerking thanks.'" Well he certainly got told.

Taylor Swift had taken to the stage earlier in the night to sing her hits Trouble, Love Story and 15, and she clearly loved the opportunity to hang out with British royalty as well as help a good cause.
According to eyewitnesses the 23-year-old told the assembled crowd that it was important to support at-risk youth, especially as they are dealing with more than most people at what was already a difficult age.

She added: "This is my first time playing at Kensington Palace or any palace for that matter.

"I want to thank you for having me Prince William, this is just amazing."

As a patron of the charity, Prince William presented the Centrepoint Great Britain Youth Inspiration Award to Bon Jovi for his humanitarian work.

In between belting out stadium rock anthems, Bon Jovi set up the Soul Foundation in the US to help those in need gain access to food, affordable housing and job training programmes.

Upon receiving the award, Bon Jovi said: "Nights like this happen once in a lifetime but the chance to affect change can last a lifetime.

"Each one of you tonight have that chance to affect change."

Sadly for us Prince William left his glamorous wife Kate Middleton at home for the evening – she was no doubt having some snuggle time with her gorgeous son George – but at least the young royal proved he's not too posh for a sing-a-long!

What do you think of Taylor, Prince William and Bon Jovi's singing? Tweet us @SofeminineUK.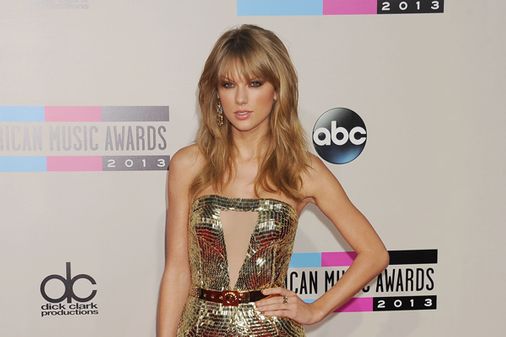 © Getty
Taylor Swift