SPOILER ALERT!
Episode 1
Karl's pushed to breaking point with Dev's relentless digging after he reveals he's asked police to look at CCTV footage from the hospital to see if anyone had access to Sunita's room. Karl knows he needs to put an end to all this.

At the Alahans, Dev opens up to Karl, but as his back's turned Karl picks up a golf trophy and comes up behind him…

Elsewhere, a homeless Tina moves into Rita and Dennis' flat. Gary urges Tommy to talk to Tina, but though he stands by her decision he tells Rita in confidence that he has his doubts.

Meanwhile, Izzy invites Gary to move back in to ensure the most stable home from the court's perspective for baby Jake.

​Also, Nick offers Kylie some money when she realises she can't afford to book a stay in a cottage. Will David become suspicious as he watches their furtive conversation?
Episode 2
As Karl stands behind Dev, he tells him to stop bringing up the past and think about the effect it will have on Aadi and Asha - it will only cause more pain. Will Dev back down, or will Karl strike?

Elsewhere, Tommy's having a tough time trying to defend Tina's actions in the pub. As Tina arrives, she's desperate to offer Izzy and Gary an olive branch and tells them they can see "Joe" when he's out of hospital. Reeling from the name change, a row threatens.

​Also, David's suspicions increase when he sees Kylie stuffing paperwork - which is actually the cottage booking - into her bag, before she denies ever seeing Nick.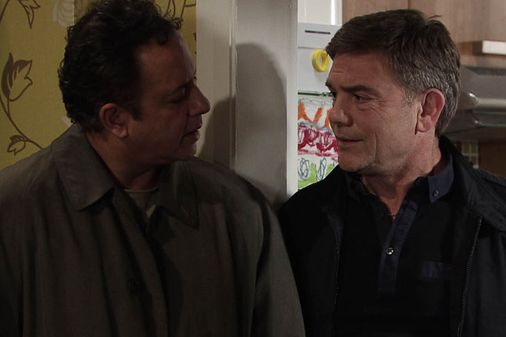 © ITV
Dev opens up to Karl