SPOILER ALERT!
Episode 1
Back on the Street, David struggles to hide his hate as he watches Nick and Leanne play happy families. He takes his anger out on Gail, aware she knows about Nick and Kylie's lies. He tells his mum he's putting her rent up and when Kylie tries to reason with him, David's anger boils over and he heads to Nick's flat.

Elsewhere, Joe is now strong enough to be breast fed, which reaffirms Tina's belief that the baby needs her. But when she struggles to feed him she's left wondering if she's done the right thing.

Also, Chesney tries to make Katy jealous as he shows Sinead affection and Norris nurses Emily.
Episode 2
Furious David tears Nick's flat apart, breaking anything he can lay his hands on. Nick and Leanne return home, horrified at what they find. They call the police and as Owen fits new locks, David plays the supportive brother. But then he secretly pockets one of the new keys. His revenge doesn't end here…

Elsewhere, Izzy breaks down, unable to bear the thought of Tina keeping the baby. Anna's concern quickly turns to rage and she hunts down Tina, slapping her across the face before turning on Rita and Tommy. She claims she knows that in their heart of hearts they don't agree with what Tina's doing.

Also, Katy's upset as Chesney continues to flaunt Sinead and Roy's determined to get to the bottom of the ghostly goings-on.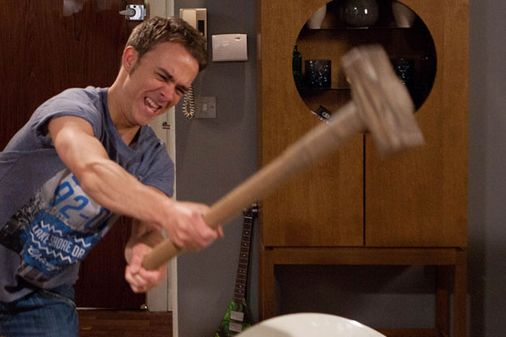 © ITV
David 's anger is unleashed