SPOILER ALERT
Lauren is home from hospital and Tanya is sorting out what she needs to do to keep her safe.

When she leaves Abi in charge, Lauren refuses to listen to her and goes in search of Joey.

She first finds Lucy who she asks - are they an item.

Lucy doesn't give her straight answer and she ends up in the Vic desperate to drown her sorrows.

Joey finds her but she tells him she doesn't want to hear it, not since he's with Lucy now.

Tanya finds her in there and forcibly removes her from the pub.

Back home Max comes round and he and Tanya end up arguing again - Lauren begs them to stop, she's been listening to them fight her whole life.

Knowing what she needs to do, Tanya tells Max to go home and goes to pack a suitcase.

Back at their flat Kirsty is taking a pregnancy test, as Max walks in Carl is on their door step and the two exchange words.

Does he know Kirsty's secret...

Max learns the truth and it is not pretty.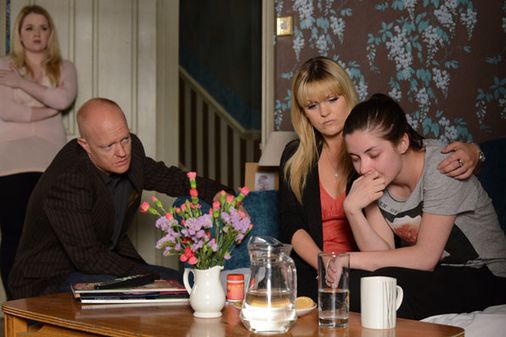 © BBC Pictures
The family try to give Lauren the support she needs