As of tomorrow, Tesco shoppers will be able to buy these mad new apples for the bargain price of £1.75 for a pack of four.
Grown by award-winning apple expert William Barnett (yes, that's a thing) in Herefordshire, the aptly named Surprize Apples, will go on sale at over 120 stores across the country.
As of yet no-one has revealed exactly what they'll taste like or mentioned exactly why this has happened, which just adds to the burgeoning sense of surprise. The mystery of it all is just too much for us to handle.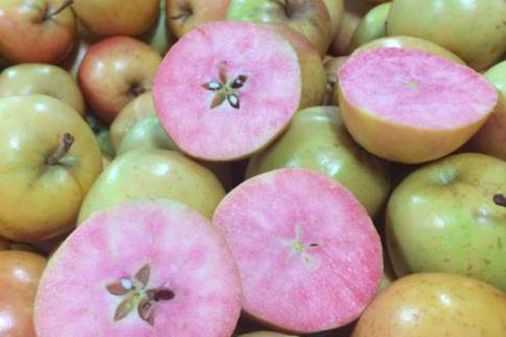 The supermarket's fruit product developer Ciara Grace said: "This apple literally stops people in their tracks on account of its unusual pale orange and yellow skin. This is the first time that it's ever gone on sale and there are only limited supplies but if it's a success we will stock it again next year."
She's not wrong.
This article was written by Maria Bell, follow her here @Marrbell.
What do you think? Tweet us at @sofeminineUK.
You might also like:
Coffee In An Edible Waffle Cup Is The Best Food And Drink Hybrid Yet
Is This The Best Way To End Food Waste?
16 Delicious (And Disgusting) Ways To Eat A Cadbury's Creme Egg