Rihanna has been caught singing in a drunken haze whilst at a karaoke bar in Germany.

The 25-year-old singer can be seen gripping the mic as she attempts to sing Don't Speak by No Doubt.

Despite her huge career based on her singing skills, this would not get her a golden ticket on the X-Factor.

The star struggled to keep up with the lyrics and later switched song to belt out her own rendition of Kings Of Leon's Sex On Fire.

We're doubting either will be her next single.

A witness told The Mirror: "She had just ordered some drinks and fries for the table then just decided to get up and sing."

The embarrassing sing-a-long took place at the Thai Royal bar in the wee hours of the 29th June in Cologne, Germany.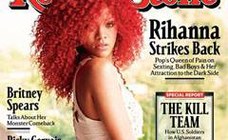 There were at least three security guards stood in front of the stage, ready to catch the Bajan star if she were to take a tumble.

She managed to stay on her feet - although it looks like her fellow singing pal had a bit of a job holding her up.

Despite perhaps not giving the best performance of her life it seems people were glad to see her letting loose.

They said: "It was nice to see her having a lot of fun and she was clearly enjoying herself on her time off."

It does seem like the leggy beauty could have done with using her time off for a well-earned rest.

Rihanna didn't get the best reviews for her arena gig in London last month.

The Evening Standard wrote: "It didn't quite feel historic and at times, Rihanna even appeared a bit bored.

"As her penchant for casually singing over the top of her own records at shows suggests, Rihanna wasn't the most vigorous performer, and she looked dead-eyed...Rihanna deserves a break and so do we."

Please RiRi - just go to bed!
Do you think Rihanna needs to stop partying so much? Tweet us @sofeminine.​

© Getty
Rihanna