David Beckham said he wanted to be remembered as a hard working athlete when he announced his retirement from football yesterday.

But it seems the 38-year-old father of four - who's married to former Spice Girl Victoria Beckham - is a little put out that some people will recognise him more for his achievements off the pitch.

He told ex-Manchester United teammate Gary Neville in an interview: "Over the years, people have looked at other things that have gone on in my career and sometimes that's overshadowed what I've done on the pitch.

"As much as I say that doesn't hurt me, of course it does."

He added: "At the end of the day, I'm a footballer who has played for some of the biggest clubs in the world and achieved almost everything in football.

"It hurts when people - not question it - but think about other things."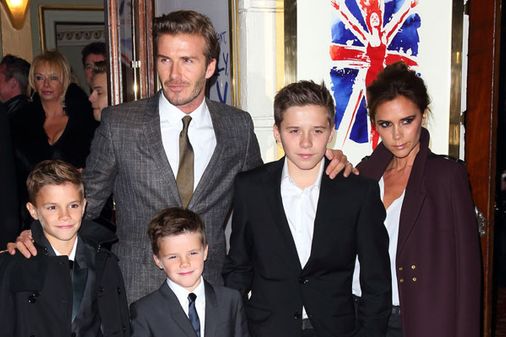 © Getty
The Beckham family
David's achievements on the pitch are certainly impressive - he played for England 115 times and was a member of top clubs including Manchester United, Real Madrid, LA Galaxy and Paris Saint-Germain.

He has also won numerous best player awards and has become the first Englishman to win league titles in four different countries.

But he has also proved quite incredible off the football field.

In 2005 he founded the David Beckham Academy football school, he's carried out a huge amount of charity work and has become a global ambassador for Chinese football.

Becks also helped Britain secure the Olympics and carried the torch - but was still snubbed from the GB football team.

Add to this his underwear line with H&M, his former popstar wife, his drop-dead gorgeous looks and incredible sense of style, and it's easy to see how his footballing achievements could be dwarfed.
Men's magazine GQ, for example, tweeted after Becks announced his retirement: "The sporting world will rightly pay tribute to his on-pitch achievements over the coming days, but for now we pay tribute to the best-dressed man in football."

David posted a statement on his Facebook page yesterday that announced he was retiring, just months after he joined Paris Saint-Germain.

He wrote: "I'm thankful to PSG for giving me the opportunity to continue but I feel now is the right time to finish my career, playing at the highest level.

"If you had told me as a young boy I would have played for and won trophies with my boyhood club Manchester United, proudly captained and played for my country over one hundred times and lined up for some of the biggest clubs in the world, I would have told you it was a fantasy. I'm fortunate to have realised those dreams."
Becks said captaining his country was one of his proudest achievements, before paying tribute to his loved ones.

He continued: "I wouldn't have achieved what I have done today without my family. I'm grateful for my parents' sacrifice, which made me realise my dreams.

"I owe everything to Victoria and the kids, who have given me the inspiration and support to play at the highest level for such a long period."

Becks also thanked teammates and managers before he concluded: "Nothing will ever completely replace playing the game I love, however I feel like I'm starting a new adventure and I'm genuinely excited about what lies ahead.

"I'm fortunate to have been given many opportunities throughout my career and now I feel it's my time to give back."