Isla Fisher has worked really hard to earn her label as a Hollywood star.

The Great Gatsby actress, who's married to comedian Sacha Baron Cohen, insists she's had "no help" in getting to where she is today.

She told Cosmopolitan: "The one time I did ask for help was after my agent in LA fired me. I was auditioning for all sorts of things but kept getting told 'no', so she just fired me!

"So anyway, I said to Sacha, who was my boyfriend at the time, 'Can you ask your agent if they'll represent me?' And his agent said, 'No way.'

"It was the only favour I'd ever asked, and I was like, 'OK… great'. But it spurred me on."

Isla has long been known as a comedy actress, with roles in movies including Wedding Crashers and Confessions Of A Shopaholic.
But the Australian star actually started out her career on Home And Away.

She continued: "[Home And Away] was a great training ground and I learnt so much, but after three years I'd had enough, and I decided to go and study at a clown school in Paris. It's like a theatre school, but you basically learn clowning.

"I knew Emma Thompson had been there and she was a big deal at the time with Sense And Sensibility, and I thought, 'Oh, wow'. It sounded so romantic and exciting and different.

"I knew coming from something like Home And Away that I was going to need to change people's impressions of me."
The 37-year-old has well and truly managed to do just that and is landing film role after film role, despite her shaky start.

In her new film, Now You See Me, Isla proved herself as quite the daredevil as she did all her own stunts.

Isla continued: "My character is an escapologist, so I had to do stuff like escape from a tank filled with piranhas while chained up.

"It wasn't until the wrap party when the director said to me, 'I've worked on a lot of action movies and no one ever does their own stunts.' I was like, 'What do you mean - I could have not done them?!' I thought you just did what you were told."
Talking further about her career in Hollywood, Isla believes support from other women is an important aspect of the industry.

She continued to Cosmo: "Women should not have to adopt masculine traits in order to succeed. You should be able to stay as a woman, and in tune with your femininity and still be equal. Women one hundred percent support each other in the movie industry.

"I auditioned for a movie recently and when I went in, the producer said he'd told one of its stars, Naomi Watts, that he was auditioning me and she'd said, 'She's so funny, she's a great actress – you should hire her.'

"What a lovely, kind and supportive thing to do for another woman."
Isla certainly has a lot on her plate as on top of her job she's also mum to young daughters Olive, five, and two-year-old Elula.

But despite her acting success, Isla sees herself primarily as a mother.

She added: "It's a myth that you can have it all. You can't. But, more importantly, I don't think you should want to. It sounds exhausting!

"I'm just dipping my toe back into work now. It's a juggling act and I'm not particularly good at it; the balls are in the air. But my priority is always my family. Motherhood boils everything down to the essentials."
The full interview appears in the July issue of Cosmopolitan, on sale 4th June, also available on Apple Newsstand

Behind-the-scenes footage of the cover shoot can be viewed at www.cosmopolitan.co.uk/isla

Photography by James White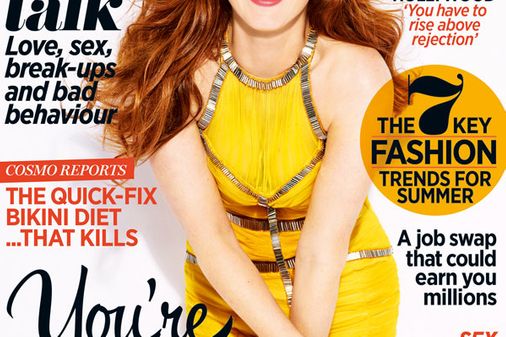 © James White for Cosmopolitan
Cosmopolitan July 2013