Kate Middleton has avoided all maternity wear since falling pregnant, stepping out in a number of glam dresses and jackets.

But this may not just be because she has a fabulous fashion sense - it's now been claimed that Kate is worried her growing baby bump and changing style will stop husband Prince William being so attracted to her.

The Duchess of Cambridge is reportedly concerned that her sophisticated look could be considered frumpy and old.

A close friend has told Now Magazine: "Kate doesn't want a frump-bump. The last thing she wants is for her growing bump to make Wills go off her.

"Her husband is of course trying to reassure her that there is no chance of that happening.

"Wills thinks she looks stunning carrying his baby, but the 31-year-old isn't taking any chances and has bought herself some sexy lingerie."
And it seems Kate's more than pleased with her new purchase.

Underwear designer Lorna Drew said: "I couldn't believe the response we got when we sent Kate the underwear. We received an email back from her office saying she was 'delighted' with it."
It seems Kate is worrying she needs to be the same young, slim student who attracted the Prince at the University of St. Andrews.

Now's source continued: "William has always fancied very sexy women and that's what attracted him to Kate in the first place.

"He was hooked from the moment she slinked down the catwalk at university in 2002 in a see through black slip.

"She's admitted to friends that she's struggling to balance dressing for her pregnancy and looking young."

Pregnancy dressing is always difficult, but it's even harder as a member of the royal family.

The expectations placed on Kate to appear respectable and sophisticated have forced her to chose clothes she may not otherwise have picked.
The source claimed: "Kate's particularly upset that some people have said she looks like a granny.

"Her mistake is that she's been trying to appear quite formal in order to impress the royal family, but in private she really isn't like that at all."

Most people have given Kate's bump style a big thumbs up, especially when compared with Kim Kardashian, who announced she was expecting at a similar time.

Dressing your new shape when pregnant is hard and we reckon it's time for all the bump bashing to stop - Kate you look great!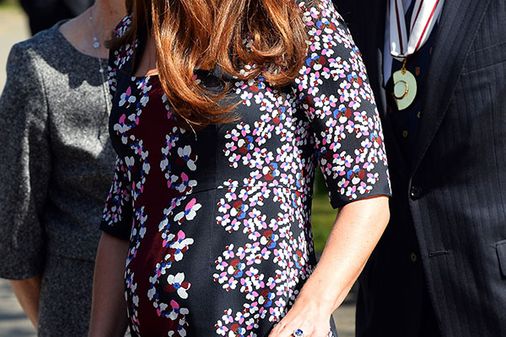 © Getty
Kate Middleton