Oliver Proudlock has been rocking a vest for a while but now it looks like he's going to have to go up a few sizes after taking part in the Six Week Muscle Plan.

The Made In Chelsea star has recently tweeted some before and after photographs of himself following his intense workout schedule.

The transformation is so extreme that the photograph looks like a photoshopped image.
The now heavyweight Pruders and his personal trainer have addressed sceptical twitter followers, assuring them his new physique is totally real.

Joe Warner, the author of the 12 Week Body Plan, responded to one user: "Tell your friend to stay tuned. we have plenty of pictures, but they are going in the book."

Further investigation also revealed another image taken in April, which shows the Serge De Nimes designer looking ripped in the gym.
Nick Mitchell - another man behind the makeover - has also been promoting the plan with Proudlock.

He tweeted: "People are still sharing your pic @oliverproudlock ...just wait til they get a load of the finished product! #UnderWraps #6WMP."

One third of "The Lost Boys" is been known in the show as the trendy, fashion conscious one and it looks like some of his fans aren't all that thrilled with the new look.

One follower wrote: "Is this a joke? I am genuinely devastated that you have just tweeted this proudlock!!!"

Another tweeted: "Why did you change you were prefect when skinny and cute".
Like it or not - we're definitely curious to see the new buff Proudlock from various angles!​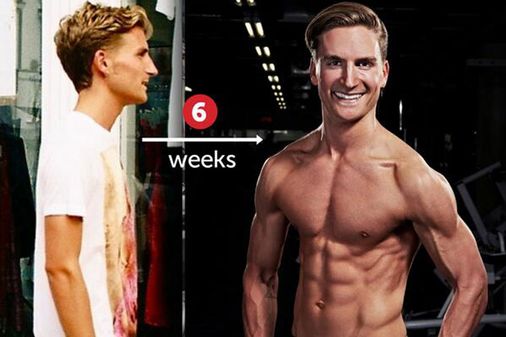 © Twitter
Oliver Proudlock's transformation