Emma Watson decided to get reflective as she took to the stage to accept her award for Trailblazer of the year at the MTV Movie Awards 2013 tonight.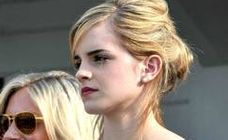 This award is given to "an actor who, despite their age, has managed to inspire others with a diverse portfolio of work and a transcendent reputation in the public eye."

Speaking about her time before she was famous, Emma told fans how she was "teased mercilessly" for being a geek at school.

She said: "I was the girl at the front of the class, I was the first to put my hand up."

The young starlet, who's known for her smarts as well as her movie success, told the audience she understands "it's not always cool" to be that person.

Clearly it's worked for her though, as she looked super-cute in a print mini-dress while accepting her award.

The 22-year-old told fans: "I promise to make the best work that I can."

Talking to her young supporters out there - who would've loved her in the coming of age movie The Perks Of Being A Wallflower - she said: "Becoming yourself is really hard and confusing."

Grateful for all the support she's got from all her fans and MTV she added: "You have supported me through all of my awkwardness."

She told fans: "If you truly pour your heart into what you believe in, even if it makes you vulnerable, amazing things will happen."

Fans on Twitter loved Emma's heartfelt speech.

One wrote: "I love Emma Watson bc she is the most original actress, not someone who is always chasing the fame and stupid stuff . She's just the best."

She's also nominated for Best Female Performance but missed out on best kiss with Logan Lerman to Bradley Cooper and Jennifer Lawrence.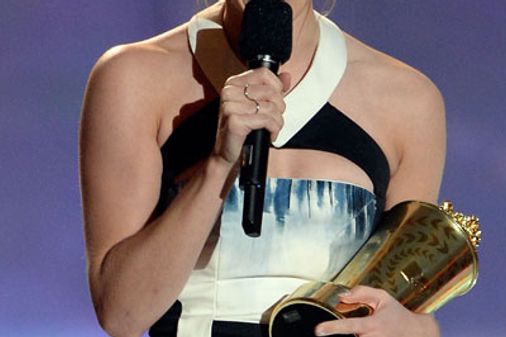 © Getty
Emma Watson at the MTV Movie Awards 2013