It's the news Directioners have been dreading - their favourite band could be taking a break from the spotlight.

Music boss Simon Cowell has hinted that his X Factor protégées - who are currently on tour and have another scheduled for next year - might need a break.

He said: "If I ever thought one of our artists was being overworked or over-promoted you would just have to say to them, 'You've made enough money - take a year off'. You have to be sensible about it."

We're not sure the boys' fans would see it that way…

But it looks like Harry Styles, Zayn Malik, Niall Horan, Louis Tomlinson and Liam Payne have some work to do before they can take a break.

© Getty
One Direction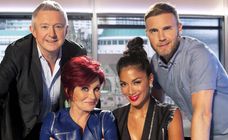 Their film This Is Us hits cinemas in August and they've just announced the release of their new single, Best Song Ever.

Add to that their current Take Me Home tour - which doesn't finish until the end of October - plus their 2014 stadium tour, and we reckon we'll be seeing a lot more of the boys yet.

Phew!

The official trailer for 1D's all-access movie was released on their Vevo channel this week - and it doesn't disappoint.

It seems the film will focus not just on the boys' popularity with their fans and their time on tour, but their personal lives too.

© One Direction/This Is Us
One Direction in This Is Us
We get to know their loved ones and at one point Zayn nearly cries as his mum tearfully thanks him as she gets the keys to the house he bought her…

The lads also return to their former work places from before they were famous, with Harry spending some time in a bakery!

We also get to see Harry topless in dance rehearsals, while Liam is also filmed in his boxers.

The movie has been put together by Morgan Spurlock, who's been very "hands-on" as he's filmed the lads.

Zayn, 20, said: "That's the cool thing about working with someone like Morgan. Because he is so hands-on and involved, you do kind of feel like you have full control of everything that is going on."

This Is Us is out in UK cinemas on 29th August.​