Kate Middleton is due to give birth to a royal baby next month and one of her only wishes is to have husband Prince William by her side.

But the Duchess reportedly fears this may not be possible as Search and Rescue pilot Wills has arranged to take his two-week paternity leave from the RAF after the baby's due date.

The father-to-be is obviously trying to ensure he's there to help Kate with the newborn, but as a result he might not be present during the labour.

Although Wills, 30, has arranged to be in London for the two weeks leading up to the birth, he will be on call and could have to return to Anglesey at any point.

The Prince has always been very dedicated to his job and will receive no special dispensation just because he's a Royal.

Kate understands Wills' position but is said to be growing more and more distressed at the thought of him missing the birth.

A source revealed: "She sat down with William and told him: 'Don't' leave me - I need you by my side.'

"She's normally a very brave, no-nonsense girl. But with the big day getting nearer, Kate's told William that she wants him to be with her constantly."

Royal sources have explained that Wills has a contingency plan in case Kate goes into labour while he's away.

He's asked for a friend's helicopter to be on standby to take him back to London if needs be.
Despite this, Kate is still "terrified that he won't be there if she goes into labour early."
The source added to Now magazine: "It's an exciting time but she knows that he'll do everything in his power not to let her down."

With such intense media scrutiny on the Duchess and her bump, both William and her mum Carole are beginning to worry that she needs to take a step back from work.

The source revealed: "William knows that Kate's feeling vulnerable now her bump has grown.

"Wills is overprotective and thinks Kate should be taking things a little slower now.

"He's worried she could be exhausted."

After multiple public outings recently - including her solo trip to christen the Royal Princess ship in Southampton, where she was looking a little worn out - Kate's family would love her to put her feet up.

A friend of Carole's said: "She's a little worried that Kate's taking on too much ahead of the birth.

"Carole knows that her daughter is getting pretty nervous."

Even so, the 31-year-old is insisting on doing everything for herself, including the renovations on their home, Nott Cott.

Though we're guessing that's just choosing swatches, not hammering any walls!

The friend added: "Kate's her own worst enemy; she's always been terribly independent and strong-willed and hates asking for help."

If there's any time you're allowed to ask for help, it's when you're preggy Kate!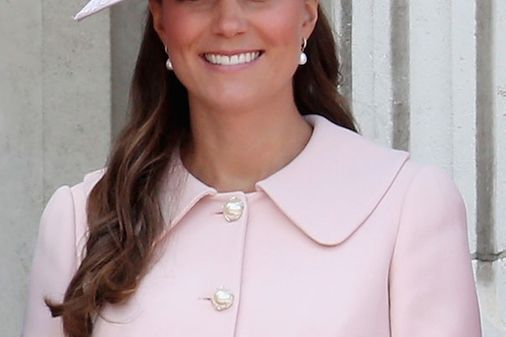 © Getty
Kate Middleton