The relationship between The Wanted singer Max George and troubled starlet Lindsay Lohan was never quite clear but apparently, whatever it was, it's over.

The rumoured couple claimed to be just good friends despite multiple reports of Li-Lo hanging out backstage at a number of the boyband's concerts and flying to the UK to see Max.

Rumours began in November last year and continued into January when she posted a photo of the two of them together in a hotel room.

Max, 24, did admit that they had kissed, but never revealed any more.
He said: "Yes, we did - a little one."​

But since then it seems his management and band mates have decided that party-mad Lindsay isn't good for The Wanted's reputation.

With the boys trying to break the American market and making a new E! reality show, The Wanted Life, fears were raised over her links with Max.

An insider told Heat: "Lindsay is not the best person for a teen-friendly band to be associated with.

The boys all think she's great, but they don't want Max to get hurt, or for his connection with her to jeopardise things."
But Lindsay probably won't be too bothered, as she may have herself a new musical admirer - Avi Snow, the City Of The Sun guitarist.

He said about the 26-year-old recently: "She's really awesome, and she's a lot of fun."

Lindsay even posted a photo of herself backstage at one of their concerts. (Sound familiar?!)

A rock band may have less to worry about in terms of the bad image that Linds brings with her.

And it's a good thing too - she may have been given 90 days of court ordered rehab, but she has 45 days to find a facility - and she's making the most of her freedom.

Since she was in court for allegedly lying to police over a car crash, the Mean Girls actress has been photographed in Rio de Janeiro partying with friends and even sitting under a table in a night club.

Most recently pictures were taken of Lindsay alone on a beach, covered in bruises.

Her father Mike Lohan has said in a statement: "I am telling you now if you are with Lindsay in Rio or you booked it, and anything happens to my daughter, I am holding you personally responsible.

"Judging from what has happened to in the past, and the way she looks down there from the pictures in the media, it's not a good thing."

Sounds like 45 days may have been too many…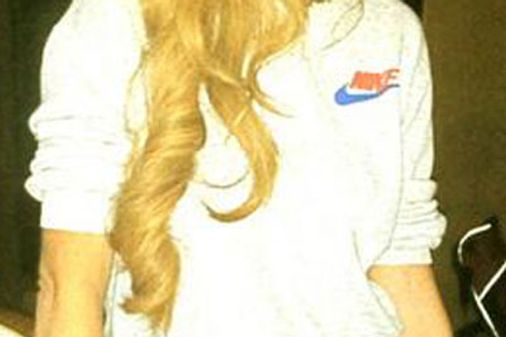 © Twitter
Lindsay Lohan backstage at a City Of The Sun gig