They're the biggest boy band in the world and it's the biggest dance craze since Gangnam Style, so when One Direction did their very own Harlem Shake it was bound to go viral.

​The boys surprised their fans at the London O2 Arena when they all started an impromptu dance session on stage.

​Taking a break from their performance, Harry Styles, Louis Tomlinson, Liam Payne, Zayn Malik and Niall Horan were answering questions from fans that had been sent via Twitter.
​
Harry then asked the band's drummer Josh for a beat to help them get going, before ​asking the crowd if they'd heard of the Harlem Shake.
​After a countdown, the boys all started throwing some serious shapes.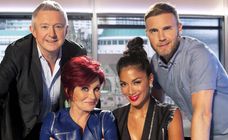 ​Niall cracked out the windmill, Louis did some swimming, Zayn got the guns out and Harry was punching the air.

​Liam maybe should have thought of what he'd do beforehand as he seemed to bounce around without much of a signature move. Disappointing!

​Without the actual Harlem Shake tune it's got to be said the boys do look a little crazy - but we of course love them anyway.
​The video, which was posted by a fan on YouTube, gives a hint at the levels of screaming fans the band has to deal with every night of their tour.

​It was revealed that they actually listen to a tape of girls shrieking during their sound checks to help them prepare for noise levels.

​A source told 3am: "It helps them manage their vocals. There's little point rehearsing in an empty arena because it's completely different when the venue is filled with people making noise.

​"Adding screaming sounds is the only way to make the sound check realistic."
​After a gig in Belfast last month a fan heard the recording for themselves.

They wrote on Twitter: "One Direction have a recording of girls screaming really loudly they play throughout the concert - heard it in sound check. Caught out."
​Imagine the screams if they actually learnt to dance - sorry boys!

© GETTY
One Direction