STARSKIN
Red Carpet Ready Bio-Cellulose Mask
Category:
Skincare
Price: £6 - £10
Description :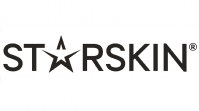 Category: Skincare
Product type: Face mask
Price: £8.50
RED CARPET READY Coconut Bio-Cellulose Second Skin Hydrating face mask delivers a powerful serum complex to leave skin dewy, supple and red carpet-ready.
STARSKIN®'s Red Carpet Ready is a Bio-Cellulose Hydrating face mask that instantly deeply infuses dehydrated skin with intense organic hydration. STARSKIN®'s premium Bio-
Cellulose is formulated with naturally fermented, vitamin-rich coconut juice, and purifies and refines the complexion without irritation. The translucent cooling sheet mask contours closely to the face to deliver a powerful complex of calming Chamomile and Coconut. Each calming face mask is soaked in 30ml of serum that leaves skin fresh-faced and red-carpet ready. Organic and innovative skincare.
KEY BENEFITS
• Deeply infuses dehydrated skin with intense organic hydration
• Rejuvenates and smooths skin
• Easy to use, next generation bio-cellulose delivers results in 20 minutes
• Cooling second skin balancing face mask
TIP: Refrigerate the unopened sachet for 10 minutes before use to enhance the energizing and cooling effect.
Available at
ASOS
---
Comments

I really enjoyed using this, I found it super hydrating and refreshing especially after putting it in the fridge before use. I would highly reckoned if your skin needs a pick me up and is looking a bit dull!
YOUR OPINION ON THE PRODUCT
Subscribe to our newsletters
Subscribe to our newsletter and never miss our latest product tests and news