The new ad starts with three young girls sat at home watching a girly girl advert on TV.
After a few seconds of bored faces and sighs, the ad cuts to these girls building what looks like the best Mouse Trap course EVER around their house, while singing a song to the tune of a remixed version of Beastie Boys' Girls.

The song has priceless lyrics such as, "Girls, you think you know what we want, pink and pretty it's just like the fifties. You like to buy us pink toys and everything else for boys, and you can always get us dolls and we'll grow up like them. FALSE."
We told you it was good.
The campaign, which launched in the USA recently, is the brainchild of Debbie Sterling, CEO of GoldieBlox, a company designing inventive toys for girls without all the pink glitter.
Their website says their aim is to "showcase the amazing inventive power that girls have...By designing a construction toy from the female perspective, we aim to disrupt the pink aisle and inspire the future generation of female engineers. We believe there are a million girls out there who are engineers. They just might not know it yet."
The problem of getting women into careers which are traditionally more male, e.g. STEM subjects like science, technology, engineering, manufacturing, is a big issue worldwide but especially so in the UK. We officially have the lowest percentage of female engineers in the whole of Europe, which is kind of embarrassing.
​Don't think it makes a difference? Even Vince Cable came out earlier this month to say that this was causing "enormous problems" for our country.
Other campaigns have tried to tackle similar issues, most notably the disastrous 'It's a Girl Thing' campaign by the European Commission last year.

But despite the video resulting in one of our favourite parodies ever, and despite the best efforts of companies like WISE and the efforts of the National Careers Service, little has improved the situation, which is why we've welcomed this ad campaign with open arms.
We're not saying that all princess toys should be banned and boys and girls should only dress and play in gender neutral grey, but we do need to make more effort to combat what message toys and advertising are giving boys and girls about their options in life.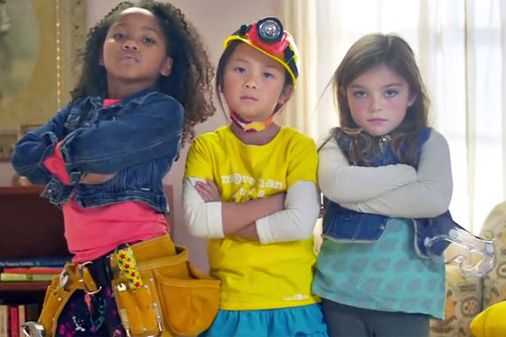 © GoldieBlox
We thought we'd print the entire transcript of the ad here, just 'cos we can. Enjoy.

"Girls, you think you know what we want,
Girls, pink and pretty it's,
Girls, just like the fifties it's girls,
You like to buy us pink toys,
And everything else for boys
And you can always get us dolls,
And we'll grow up like them,
FALSE.

It's time to change.
We deserve to see a range.
'Cos all our toys look all the same.
And would like to use our brains.
WE ARE ALL MORE THAN PRINCESS MAIDS.

Girls who build the spaceship,
Girls, who code the new app,
Girls who grow up knowing they can be engineers,
Girls that's' what all we really need,
To bring us up to speed,
Girls, our opportunity is,
Girls, don't underestimate GIRLS.

GIRLS *CHANTS*"
Anyone else feel like doing a mini fist pump while stamping on a Barbie right now? Anyone?

You can watch the full video here:
What do you think about the new ad or the issue of gender stereotypes in girls' and boys' toys? Do you even think there is one? Let us know by tweeting us at @sofeminineUK.