Receiving critical acclaim throughout the world, making the film WADJDA certainly wasn't without difficulties; especially in terms of casting women to appear in the film, as well as navigating the tricky territory of filming – in conservative areas Haifaa had to direct the action from the production van.

This incredible film centres on the life of 10-year-old schoolgirl Wadjda, who lives in a suburb of Riyadh. Wadjda is cheeky, vivacious and desperately wants to ride bikes with her best friend, a boy called Abdullah, but she can't quite understand why she's not allowed. By focusing on the story of this audacious little girl, Haifaa shines a subtle but powerful spotlight on the stiflingly restrictive environment and limitations put on the lives of women in Saudi Arabia.

We spoke to Haifaa Al-Mansour about her debut film release and the challenges that face Saudi women every day…
How did you come up with the narrative for the film?

The idea of WADJDA started because I come from a small town and I went to public school all of my life in Saudi Arabia. I therefore wanted to showcase a part of my life in a film; that is why the protagonist is female.

The first draft of the film was really bleak and very sad – the typical sort of thing from the Middle East, for example the mother dies.

But then I watched a film like that at one of the film festivals and I wasn't sympathetic to that character at all, so I went home and began to rethink my script and be more sincere to my feelings and to the place I come from, and that is how Wadjda's character was born and developed.
How much of your life and upbringing do you see in the character?

Well the girl who wants a bicycle is fiction but the rest of it does come from my own experiences living back in that small town, going to public school and when I was broke I would make bracelets. I would try to sell them and be entrepreneurial – well attempt to be!

But the character itself was built upon my niece and most of the content was drawn from things I'd seen, so I brought in different elements of that atmosphere. So there is an autobiographical element to it, but it's more like a witness account of the world I was in and that is what I wanted to bring into my story.
Was it important to you to have strong female figures in the film?

Definitely, it was really important for me to make a story about empowering women and embracing hope and human resilience.

I mean, everyday life for women in Saudi Arabia is a struggle. ​It's not a struggle like going to work is a struggle, or going to the mall is a struggle, or doing grocery shopping is a struggle, there are so many things that are taken for granted as being easy for women, but these things are hard in Saudi Arabia, so of course I wanted to focus on that.

Also Saudi Arabia is quite segregated so I grew up with quite a lot of women. Therefore my access to the women's world was enormous, so I wanted to show that part because I felt a lot of people don't know much about women in Saudi.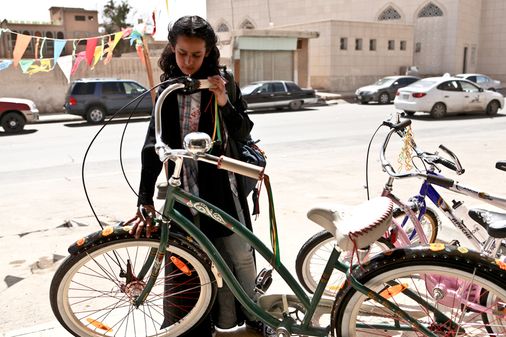 © PR
WADJDA - starring Waad Mohammed
What was at the forefront of your mind in terms of presenting the male gender in the film?

I didn't want to say men are bad; I wanted to say they are also trapped in a conservative place and sometimes they make decisions based on what they should do rather than how they personally feel.
How easy was it to cast the characters in the film, especially the females?

​Not that easy, especially for the girl who played Wadjda, because we weren't able to put an open casting call, so we had to rely a lot on word of mouth and then we had to convince the parents and all that.

And then Waad came in and she was wearing jeans and listening to Justin Bieber and she didn't speak English, but we felt that she very much had the spirit of Wadjda.

But her mother was hesitant, she thought performing arts was no place for a child and obviously she would have to miss school, but I think Waad wanted the part, so she managed to convince her parents.
Were there many difficulties filming in Riyadh?

We had permission from the Minister of Culture, but the culture itself was very conservative and against film.

We weren't able to freely access locations, we had sandstorms and we started losing time. Then when we went outside the area was segregated, so I had to be in a van because I couldn't be seen to be talking to men - in fact my voice went hoarse from shouting at everyone.

It was frustrating and for me it was very challenging as a woman to deal with a lot of men – at times men want to be the boss.
The film has had fantastic reception at the International film festivals, how did you expect people to react to the film?

When I first finished the film I wasn't sure because we were filming under very difficult circumstances, so I was really trying my best to get the motions right and to get the scenes to work, and I was just hoping people would accept the film.

But for them to just enjoy it and see the merits in it and see the humour and feel what I really wanted them to feel, like this girl invested in her journey; is such an overwhelming feeling and I'm living every filmmaker's dream right now.
How has it been received in Saudi Arabia?

A lot of young people really see themselves in the film, one kid came to me after the cultural screenings in Saudi and he told me: "I now understand how Americans feel when they see an American film".

For me it's amazing, I was almost in tears. ​But the rest of Saudi is very conservative and are against making films. They don't want women to make films, when it's only about themselves and empowering women.

But I really sympathise with them because I know change is coming very soon and it's not realistic to expect people to change overnight.

I try to take them all with me on a journey - that's why I wanted to tell a story about a young girl who wants to have a dream and hopefully they see that.
What made you want to make films? Did you watch many growing up?

I watched a lot of films growing up because I come from a small town and I'm one of 12 kids and there's not much entertainment. I watched mostly American films, Chinese, Egyptian and Bollywood films.

They took me on a lot of journeys and they had so much power emotionally, and I saw extreme love stories and wars and it was amazing.

When I grew up and became a working woman in Saudi I felt so invisible trying to find my place and nobody was against me really, but it's just that the culture is such that that's just the way things are.

So I made a short film, because I wanted to have a hobby, something else in my life outside from work. I submitted it to a local competition and got accepted, and I was so excited when they sent me a ticket to come with the film. ​

And when I went and they said: "The first female filmmaker!" and I was like yes I guess so! I did it because I wanted to have a voice.
As the first female filmmaker in Saudi Arabia, how much of a challenge was it for you to get this film made?

It was a challenge because there aren't many films from the Middle East – it's not thought about in Saudi Arabia, it's not considered as a cinematic place. So finding producers was difficult and also funding, especially after I started working with a film company from Germany.

I got a lot of money from Europe, but I didn't really get funding from the Middle East because people did not believe in a film like this about everyday life and a girl and a bicycle, so that was really difficult. But once we got the financing going, more people from Saudi Arabia invested and then things started rolling.
Do you think it will be easier for the next woman to follow in your footsteps?

I think it's a lot easier because now people want to see films from the Middle East, but it's very important to make real films about themselves and about their lives and not to compromise on honesty. Sometimes people want to make films and end up getting lost in a lot of things and they don't see that.
What message do you hope people will take away with them after having watched WADJDA?

That there is hope and that if we believe in ourselves then we can change a lot of things and it takes a lot of assertiveness and confidence to have a dream and follow it up.
WADJDA is released in UK cinemas from 19th July.​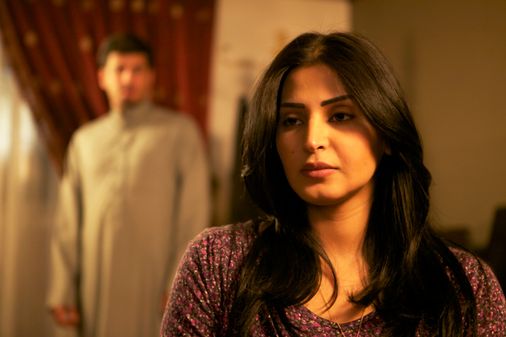 © PR
Wadjda's mother played by Reem Abdullah
Watch the trailer here: