Secret Diamond Club was started in 2010 in Denmark and now has over 30 millionaire members from across Europe but now for the first time, men in the UK are able to join too.

The difference between this and any other dating site is the fact it allows the wealthiest men in the world to meet the most beautiful women all for the bargain price of to $10,000 (£60,000). Thankfully for us girls however, all you need is a hot bod and you're in.
All female applicants are vetted through a panel of dating experts based purely on their looks with an obligatory three photos (including full body) to make sure they're as beautiful as they claim. They are then ranked (shuddering) from 1-100 and set a membership fee according to their looks. This can then be changed in relation to other women who join...and their age. Now there's a surprise.
What happens if you're a woman AND a millionaire you might ask? Well that's when the site implodes.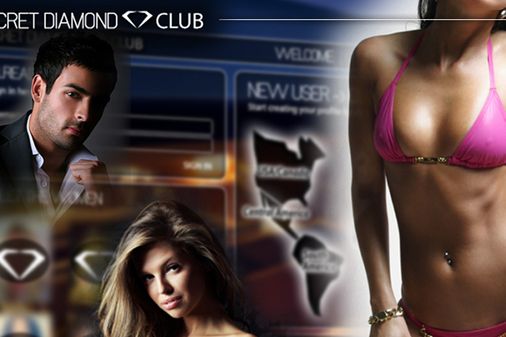 © Secret Diamond Club
​Unsurprisingly Secret Diamond club has amassed some controversy, with some branding it chauvinistic. But are they just over reacting?
Well if we take the words of the site's founder, then yeah, it's pretty insulting. The site was started by serial entrepreneur Gus Terkelse who believes the world's richest men often don't have the time to search for love, but nor do they want to lose control of the dating process and be match-made.
​He also believes that UK women are "too ugly" to fulfill their needs. He told MailOnline: "Coming from a Scandinavian country we know Britain as a country of ugly women. There are a lot of a wealthy men here but the women are not very attractive and it is difficult for the men to meet good looking women." Thank God that Gus was there to help the poor sods out eh?
According to Gus, essentially, men want physically attractive women, and women just want money. "Genes dictate women are turned on by success, it's just basic evolutionary science." We didn't realise we'd STOPPED evolving.
However, the fun doesn't stop there. Gus revealed to the Mail Online that he started his company after finding a unique gap in the market.
​​"I noticed on another dating website that the men weren't necessarily physically attractive and that those men who were standing in a suit were rated higher. I concluded that women weren't interested in looks and were instead interested in other factors - namely financial success. Although other sites for millionaire men exist, they only charged £10 a month for membership so what I found is most of the men on there were not in fact rich and were often dubious or weirdos. I figured if a man really has a lot of money, he will be willing to pay.'
​​Sadly there's no mention to whether these male millionaires are any different from your usual internet 'dubious weirdo' or chauvinistic pigs in any other way then their money. Maybe nobody cares? But what does Gus say to the women and men that do - you're ugly and poor of course! Well, obviously.
​'Ugly girls don't like the site and poor guys don't like it. They don't want to admit that guys prefer beautiful women and women want rich successful men. The ugly girls create this moral concept around the idea; attempt to moralise the website. But if you speak to any evolutionary psychologist they will tell you this is the way we evolved as a species.
And finally. When The Mail Online asked Gus if a man would ever date an ugly girl based on her good personality, his answer was strong: "No. No I don't think so."
What do you guys think? Sexist site or genius way to hook up? Join the debate and tweet us at @sofeminineUK.