We're always hearing that girls get a raw deal, but you can't argue with the facts. Here are just a few; there are 250 million young girls living in poverty, approximately 50 percent of all sexual assaults are against girls aged 15 or younger, and one out of nine girls in developing countries will be married by age 15. These are just a few of the grim statistics adolescent girls face on a daily basis, and as long as they are continuously denied their basic needs and rights, the cycle of inter-generational poverty won't end any time soon.
Realising the need to leverage young girls' potential, the girl effect was founded to produce opportunities for girls by providing them with the right resources. It addresses the world's mistake in ignoring girls' needs in the millennium development goals (MDGs) which expire in 2015.
Created by the Nike Foundation in collaboration with the NoVo Foundation, United Nations Foundation and Coalition for Adolescent Girls, the girl effect asked 508 adolescent girls living in poverty in 14 countries about their hopes and ambitions to form a declaration.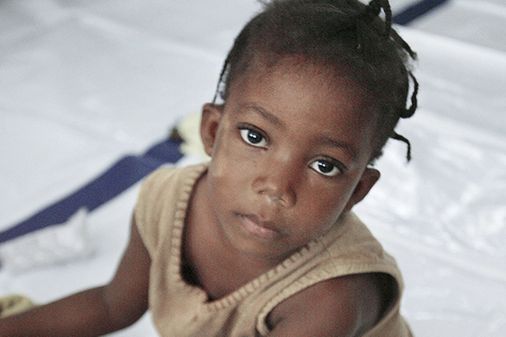 © Getty
Girl in Liberia
The declaration, which will be delivered to the UN secretary-general Ban Ki-moon on the International Day of the Girl on 11th October, sets out five goals for girls focused on education, health, safety, economic security and citizenship.
​Some of its plans include: ensuring all girls can attend free, quality schools, reducing the number of adolescent pregnancies, creating "girl-friendly spaces," eliminating child marriage and increasing girls' access to financial services.
​It's the first time the international community has united over a common goal to help adolescent girls.
One of the young girls involved is Joanna, a 15-year-old from Liberia who was sold by her family because they needed extra money. After running away from the people who bought her, she had to look after herself, growing food to sell to be self-sufficient.
"It's important for women in Liberia to have their own business," she says in her film on YouTube. "Because when you have your own business nobody can give you a hard time."
See Joanna's story
The girl effect aims to help girls like Joanna enhance their earning potential by investing in their futures. With access to education, health care, family planning and a safe space, a young girl can increase her family and community's wealth while also boosting her country's GDP. It's not simply the moral thing to do, but it's a smart economic decision that will help girls become better leaders, earners and providers.
​According to the girl effect's website, less than two cents of every international development dollar goes to girls. It's time to stop ignoring the human rights of adolescent girls, to hear their voices and make their protection a priority. They've been invisible for too long.

If you're interested in helping, check the girl effect's website for a list of ways to get involved or tweet them @girleffect